Vote 2012: Elected mayors - big hitter or protest vote?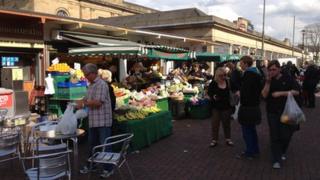 Sheffield is one of 10 English cities to be holding a referendum on 3 May on whether to introduce directly elected mayors. But in nearby Doncaster they will be voting on whether to scrap theirs. Has the system failed, or is Doncaster a one-off?
"I'm a lone wolf," says Peter Davies. "I never wanted brothers and sisters when I was a kid. I am quite happy in my own company."
The mayor of the Metropolitan Borough of Doncaster has seemingly never wanted to be surrounded by political brothers and sisters either.
"I don't want to insult my local party membership, who are first class people," he says.
"But it's great not having councillors in the council, quite frankly. Because there is nobody yapping in my ear saying, 'you should be doing that'."
A former teacher and professional gambler, Mr Davies has campaigned for Labour, the Conservatives and the UK Independence Party in his time.
But before his surprise election victory, he had resigned himself to a life on the political margins, contesting a string of elections without, as he puts it, a "smell of success".
On one memorable occasion, he was even beaten by the Monster Raving Loony candidate.
That all changed in 2009, when he became the first member of the English Democrats - which campaigns for an English Parliament and Britain's exit from the EU - to gain elected office.
'Absolutely surreal'
His pledge to take a wage cut, from £70,000 to £30,000, and to abolish perks of the office, such as the mayor's car, struck a chord with voters in an area with a history of political corruption.
But it was his self-declared war on what he calls political correctness - with pledges to scrap the council's translation services, Black History Month and gay pride events - that gained him national headlines.
He describes his first day in the job as "absolutely surreal" and admits he did not initially know what he was doing: "There was no induction process."
He quickly learned that having a national policy platform was not what mattered.
"I had not been here very long before I realised that being an English Democrat was a total irrelevance... It's about doing what's best for everybody in the town."
In most local authorities a council leader, elected by fellow councillors, calls the shots.
But under the mayoral system, the public choose a mayor, who holds executive power with a hand-picked cabinet of like-minded councillors.
Advocates argue that elected mayors can rise above the party-political infighting that dominates much of local government, and provide a strong, independent voice for their area on the national stage.
Boris Johnson and Ken Livingstone - currently slugging it out for the right to run London - are often held up as examples of charismatic "big hitters" who can get things done for a city - and are more accountable than council leaders because most voters at least know their name.
Mr Davies, whose cabinet includes Conservative, Lib Dem and Independent councillors, has certainly proved to be an independent voice - but his blunt, uncompromising style might also prove to be his undoing.
'Antagonism'
Doncaster voted to introduce elected mayors in 2001, partly in response to the Donnygate scandal, which saw 21 councillors convicted of fraud.
But the local Labour Party, which still dominates the council, has never accepted the legitimacy of the office and has attempted to undermine it almost from the start, according to a 2010 Audit Commission report.
It has, for example, continued to set its own budgets and policies, with the aid of council officers.
Mr Davies' Labour predecessor Martin Winter ended his second term in the job as an independent, after falling out with his party colleagues.
"Some influential councillors place their antagonism towards the mayor and mayoral system, and the achievements of their political objectives, above the needs of the people of Doncaster," said the Audit Commission.
But the report also had some stern words for Mr Davies who, it said, was "not averse to provocative and inflammatory statements, and these serve to create division when compromise and conciliation are required".
Communities Secretary Eric Pickles, in one of his first acts in government, took the highly unusual step of imposing commissioners on Doncaster to try to improve the way it was run.
Mr Davies, the father of maverick Tory backbencher Philip Davies, compares trying to get some of his manifesto pledges - such as severing ties with Doncaster's five twin towns - to "wading through treacle".
Describing how unelected council officers "run the show" in most local authorities, regardless of which party is in power, he says: "I maybe shouldn't say this to you publicly but the average councillors are not very bright. The officers are usually brighter."
'Protest vote'
Mr Davies' plain-speaking approach has gone down well with some in the town. Market traders are full of praise for the way he has championed their cause.
Others are less complimentary and describe the mayor and his office as a "waste of money" or "a bit of joke".
Sandra Holland, the council's Labour group leader who lost to Mr Davies in 2009, is heading the campaign to get rid of the mayor.
She describes his victory as a "fluke" and a "protest vote about things that were happening nationally at the time".
But she rejects his claim that 3 May's referendum, which was triggered by a vote in council, is an example of "sour grapes" and "bad sportsmanship".
She says the mayor has "failed to consolidate his position" in Doncaster and the Labour Party, with 44 councillors to the English Democrats' none, is the true voice of the town's people.
The position of mayor, she argues, concentrates too much power in one person's hands and is profoundly undemocratic.
The picture is complicated by the fact that Labour leader and Doncaster North MP Ed Miliband has backed elected mayors.
Mrs Holland describes her party leader's opposition to her stance as "healthy".
But it might explain why there is little evidence of the "no" campaign on the streets of Doncaster, or in Labour Party local election literature.
'Nasty bickering'
In nearby Sheffield, which in common with several other cities in the region is voting on 3 May on whether to have elected mayors, there is also little sign of election fever.
A recent BBC poll suggested 62% of people in Doncaster, Sheffield, Leeds, Bradford and Wakefield - all places where a referendum is being held - didn't know it was taking place.
"It would be alright if we got someone like the mayor in Donny. He calls a spade a spade," said Stewart Marshall, a 56-year-old railway worker and one of the few shoppers I spoke to in Sheffield city centre who was aware of the referendum.
But, he adds, he is "not bothered one way or another" about whether Sheffield gets an elected mayor, pointing, with distaste, to the "nasty bickering" that he believes has characterised the London mayoral contest.
Others, who did not wish to be named, cited Mr Davies as an example of what can go wrong when a maverick is elected - someone who apparently cannot work with local councillors.
Will Davey, a 43-year-old Labour-voting chemistry teacher, said he intended to vote yes to elected mayors, because the city needs a "charismatic" figure to make sure it is punching its weight in Westminster.
"I think there is a potential for it becoming a really good thing. Then again there is always the potential of it becoming the wrong person, but that's democracy."
Unison and other trade unions are leading Sheffield's "no" campaign, which also has the backing of Lib Dem and Labour councillors.
But the contest, such as it is, has crossed party lines and thrown up some peculiar alliances.
Low turnout
Some Lib Dem and Labour councillors, while publicly backing the status quo, may be keeping quiet in case they want to take part in future mayoral contests, critics say.
Only the Conservatives - who are fringe players in most large northern city councils - appear to be unequivocally in favour of elected mayors in the Yorkshire and Humberside region.
In Sheffield, the yes campaign is being run by Kevin Meagher, a former special adviser to Labour cabinet minister Sean Woodward.
He is passionate about the need for change but his campaign has only "about a dozen" volunteers and no budget.
But even if cities like Sheffield vote to have an elected mayor, the turnout may be so low that whoever gets the job will be hobbled by questions about their legitimacy from the start.
Particularly if, like Peter Davies in Doncaster, they do not belong to one of the big three parties and insist on operating as a "lone wolf".