MoD told to block ministers' 'wasteful' decisions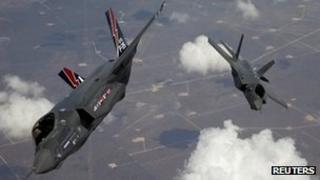 The MoD's most senior civil servant has been urged to stop ministers taking wasteful procurement decisions.
The Commons public accounts committee questioned permanent secretary Ursula Brennan on the Royal Navy's aircraft carrier programme.
Ms Brennan confirmed that no decision had yet been taken on whether to revert to Labour's plan to buy F-35 jump jets.
Chair Margaret Hodge said that adapting an aircraft carrier to accommodate different jets had cost "billions".
The previous Labour government placed orders for two new aircraft carriers to be equipped with the F-35B variant of the American built Joint Strike Fighter (JSF), which is capable of short take-off and vertical landing.
The coalition announced in the 2010 Strategic Defence and Security Review (SDSR) that it favoured the F-35C version, which has a longer range and can carry more weapons.
The UK would only need one aircraft carrier to be operational at any one time, ministers decided, and this one would be fitted with "catapult and arrestor" equipment to enable the F-35C to take off and land on it.
The plan would make it easier for the UK to co-operate on defence with allies such as the US and France, ministers believed.
"The last government committed to carriers that would have been unable to work properly with our closest military allies," the SDSR read. "It will take time to rectify this error, but we are determined to do so."
The cost of fitting the equipment to the aircraft carrier has since spiralled. Meanwhile, doubts over the capability of the F-35B jets have increased.
The government has not reached a final decision on which aircraft to buy, Ms Brennan said: "The secretary of state for defence [Philip Hammond] wanted to take the time to assure himself about these issues.
"He has been asking us a lot of detailed questions. He then has some discussions he needs to have with his ministerial colleagues, including the National Security Council."
She repeatedly declined to reveal how much the decision to alter the programme had cost so far.
"The expenditure around that further work is the subject of discussion with ministers," she said.
But Ms Hodge, a Labour MP, said the decision to switch to the F-35C had been taken "without a proper understanding of the costs and risks" and she criticised Ms Brennan for having failed to restrain ministers.
"Why on earth don't you exercise a little bit of your accounting officer authority and issue letters of direction to stop ministers taking decisions which end up with the taxpayer having to foot the bill for a massive amount of billions of pounds of torn up notes?" she demanded.