English Democrats: Party 'could win' council seats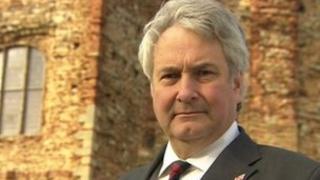 The English Democrats are hopeful of winning council seats in four English cities and could beat the BNP in London, the party's chairman has said.
Robin Tilbrook said the nationalist party would field 101 candidates in Thursday's local and mayoral elections.
He said all English cities should have elected mayors and that councils should end funding for "politically correct" causes and "vanity projects".
The party campaigns for an English Parliament and the UK to leave the EU.
It fights local elections on a curb immigration and anti-political correctness platform and last May gained its first two elected councillors in Boston, Lincolnshire.
Mr Tilbrook said the party is optimistic of success on Thursday in Salford, Liverpool, Southend and Doncaster and say they hope to beat the BNP in the London Assembly elections.
And the party chairman said the campaign to keep the mayoral system in Doncaster - where a referendum is being held on whether to scrap it - was going well.
"We want elected mayors for every local authority in England. It's a no brainer for any democrat. You have much more chance of common sense coming through without the council committee system that just looks to give the nod to various vested interests," he said.
In 2009, the party gained its first major electoral success when Peter Davies was elected mayor of Doncaster, South Yorkshire, with a campaign to end "political correctness" and cut spending.
Mr Davies failed in his bid to withdraw council funding for the town's gay pride march. But party chair Mr Tilbrook says he wants to see this, and other "politically correct" subsidies stopped.
Client groups
"Most gay people don't want to be treated as gays - they just want to be left alone to get on with their lives. Public money should be put into things that are about England and being English.
"The state should be trying to create an integrated society but the problem with pride was that Labour had an agenda to create special interest client groups who supported them politically."
The former Conservative said stopping the subsidy had nothing to do with homophobia and pointed to the party's mayoral candidate in Salford, Michael Felse, who last year was Manchester Pride festival's 'parade queen' .
In London, the party is fielding candidates for the London Assembly but not for mayor. The party's London mayoral candidate in 2008 achieved less than half a percentage point of the vote.
But with the BNP hampered by internal and financial strife, the English nationalists are hopeful of beating the far-right party.
BNP councillor Richard Barnbrook was elected to the assembly four years ago when the English Democrats polled just 1%. But Mr Tilbrook thinks there could be a role reversal this time around.
He puts this down to a "rising sense of Englishness" and a waning of the British identity across the UK.
"People have turned off being British and turned on to being Scottish, Welsh, English. The key issue is whether people see themselves as British or English."
Distancing himself from the BNP's traditional focus on race, Mr Tilbrook said: "We compare ourselves more with Plaid and SNP than the BNP.
"We haven't got any this time but last time around we had non-ethnically English candidates standing in London."
He said England was losing out both from the union with Northern Ireland, Scotland and Wales and the UK's membership of the EU.
Voters go to the polls on Thursday 3 May to elect councillors, mayors and London Assembly members and in some cities to decide whether to have directly elected mayors in the future.