Local elections: UKIP plays down seat expectations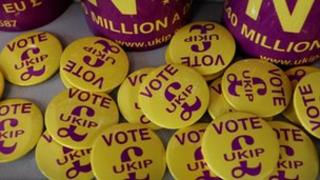 The UK Independence Party has said it will be a "hard ask" to translate its national opinion poll rating into council seats on Thursday.
One recent poll put the party one percentage point behind the Lib Dems.
But it has a tiny presence in local government compared to the Lib Dems and is only contesting 30% of seats.
UKIP, which campaigns for British withdrawal from the EU, is fielding 747 council candidates across England, Wales and Scotland.
A spokesman for the party, , said it expected to achieve a 10% share of the vote on 3 May by targeting apathetic voters who were "fed up" with politics.
Officials are hoping for success in Plymouth, Sheffield, Hull and Wakefield as well as on the London Assembly.
UKIP has had London Assembly members in the past but failed to get any elected in the 2008 elections. A party spokesman said they were confident of picking up at least one seat this around.
Candidates need 5% of the London-wide vote to be elected to the Assembly.
Serious approach
Disaffected voters from all sides were moving to support UKIP, a spokesman said. Making a pitch for disillusioned voters he said: "We're competing most for the apathetic - the people who think 'they're all as bad as each other' - the 40-50% of people who don't vote."
"People assume we just pick up former Tories but we're picking up a fair few Lib Dems and Labour voters. On a lot of issues we're not left or right and it's often the poorest people, on council estates, who are most affected by the things we talk about."
The spokesman said the party's "serious approach" to crime, anti-immigration stance and its campaign for the return of selective education would benefit the poorest most.
"In the past the Lib Dems were effective at being the receptacle for people's protest votes but people don't know what they stand for anymore - apart from being nice to people."
Party leader Nigel Farage downplayed the party's chances of taking seats.
"We are hoping to pick up a few seats, but our key target is to increase vote percentage and share across the country," the MEP said.
UKIP claims to have more than 100 councillors, although that number includes town and parish councillors. The party took control of Ramsey Town Council in 2011, its first significant success in local government.
Officials say because of the first past the post electoral system for council elections and a shortage of party members, UKIP were "looking to upset a few people" rather than win seats.
"It'll be a very hard call to overtake the Lib Dems - a really tough ask. We don't have their mass membership and we're only standing in 30% of the seats available. But in seats where we are standing against the Lib Dems we'll have a good chance," a spokesman said.
The party was confounding expectations with its choice of election candidates, the spokesman insisted.
"We've got one Assembly list candidate who's a Moss Side-born barrister of Jamaican origin and another who's Scottish and a very out, loquacious queen."