Phone hacking: MPs criticise Rupert Murdoch but it's not final word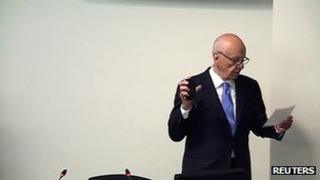 Who should sit in final judgement on the Murdoch media empire?
At first glance it looks like a select committee has done the job.
Rupert Murdoch is not fit to run a big international company, it says.
That though is a disputed conclusion. Conservatives on the committee disagree.
Read closer, and it is clear the report is not designed to consider the entire hacking tale.
Its aim is only to decide whether the committee has been misled.
On a key question - whether James Murdoch read a now famous email suggesting hacking went wider than one rogue reporter in 2008 - it concludes only that it cannot reach conclusions.
Do not underestimate a report laden with clear criticism - and allegations that three former News International figures offered misleading evidence - but it does not seek to answer every question.
Leveson
That is Lord Justice Leveson's job, isn't it?
Not necessarily, or at least not yet.
He has said he will not criticise or name individuals in his report - due before the police finish their work.
Lawyers for the Metropolitan Police and newspaper groups have urged him to take care in his conclusion in case he prejudices potential criminal prosecutions or is unfair to those who have been criticised in hearings without a chance to defend themselves.
At one point the Judge - debating the point with a media barrister - said: "It seems to me that the effect of what you're saying is that I can't do anything."
It was a discussion point, not any sort of ruling, but when he drafts his first report Lord Justice Leveson will have to step carefully.
Those Metropolitan Police investigations, into phone hacking, computer hacking and illegal payments, continue.
Once they, and any subsequent legal action, is completed Lord Justice Leveson will start on the second part of his work looking directly at the extent of unlawful or improper conduct within News International.
That will take time.
Ofcom
What about the prime minister?
Asked about the report's view of Rupert Murdoch, his spokesman says there are regulatory authorities to deal with those issues.
That authority is the broadcast regulator Ofcom, currently deciding whether BSkyB is a fit and proper license holder. It refuses to say when that work might conclude.
Even when the tasks of Ofcom's lawyers and the Met's officers are complete, the end may not be in sight.
Much we now know about this affair came first from cases in which victims have sued News International. Earlier this month dozens of extra claims emerged. No one can tell how long it will take before they are resolved, or whether there are others to come.
The publication of the committee's report is a key moment in this saga.
But with so many organisations, and individuals, working to reach their own conclusions, it is by no means the final word.