Queen's Speech: Meters 'missing from water bill'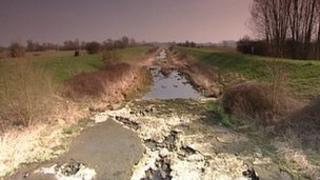 Conservation groups have criticised the government for failing to bring in water meters for households in its next legislative programme.
The Draft Water Bill will allow every business and public sector body in England and Wales to switch their water and sewerage supplier.
But the RSPB and WWF-UK said it was disappointing that measures to reduce waste by domestic users were missing.
Labour said ministers must do more to stop leaks and protect future supply.
A hosepipe ban is currently in place across much of southern and eastern England, affecting some 20 million customers.
The move followed one of the driest two-year periods on record.
Improve efficiency
Many of the measures contained in the draft bill were initially unveiled in a Water White Paper, published last year.
They are primarily focused on businesses and public sector bodies and are designed to help them obtain more competitive prices and improve their efficiency.
At present, in order to switch water supplier, a firm or organisation must use more than five million litres of water a year at a single set of premises - in Wales that threshold is much higher, currently 50 million litres.
The bill would reduce the threshold in both England and Wales to zero and extend the opportunity to switch to cover sewerage as well as water.
Domestic users cannot currently switch suppliers and there are no plans to change that situation.
If it becomes law, the bill would also, the government says, increase competition in the water and sewerage market by reducing the administrative burden on new entrants looking to join.
The powers of industry regulator Ofwat will be strengthened in order to manage that increased competition.
Ministers say they will also do more encourage water companies to find new sources of supply to try to reduce the impact of future droughts.
'Sad reflection'
The Water White Paper promises legislation "early in the next Parliament" and a new regime "by the mid to late 2020s" - but critics warn this deadline is too far away.
Phil Burston, water policy officer at the RSPB, said: "It's disappointing we won't actually see a real Draft Water Bill for some considerable time, which we consider a sad reflection on the priority government is giving water management issues.
"In terms of drought and flood, our legislators only look on the issue when it's happening, and it goes off the boil between these events, so we stumble from one crisis to another."
He said the RSPB urgently wanted to see commitments on full water metering for households.
That view was echoed by Rose Timlett, freshwater expert at WWF-UK, who said time was running out for the government to act.
"It is enormously welcome that the bill includes powers to reform the water abstraction system - which is currently unfair, out of date and a threat to our rivers and wildlife," she said.
"Government also needs to ensure that the bill addresses the huge amount of water that is currently wasted, putting an end to the red tape that currently prevents water companies from installing water meters, even when it's in the best interest of customers and the environment."
Shadow environment secretary Mary Creagh said the government had "washed its hands of tackling vested interests on the water sector".
"The government needs to set national standards for social tariffs to help families with rising bills, set tougher targets to reduce water leaks and protect our country's water supply for the future."
Last week, the Lords' the Agriculture, Fisheries and Environment EU Sub-Committee said also said the current timeline for wholesale reform of the sector "fails to respond to the urgency of the situation".
The bill would mostly apply to England and Wales, but does allow for the creation of a joint water and sewerage services retail market in Scotland.