Ed Balls warns of cuts 'catastrophe'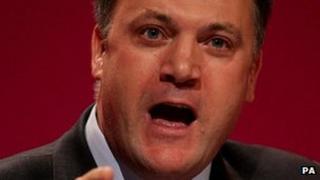 Labour's Ed Balls has warned the world economy faces a "catastrophe" unless Germany abandons pressure on eurozone countries to cut public spending.
Speaking on Sky News, the shadow chancellor said David Cameron must urge leader Angela Merkel to change course.
Labour's former chancellor, Alistair Darling, has also warned that austerity could damage living standards.
But the prime minister has said he backs Germany's calls for "strong plans" for dealing with deficits.
The G8 summit of leaders of major economies has been discussing the ongoing crisis in the eurozone.
Mr Cameron said the countries in the single currency had to take "decisive action" to end the problems caused by high levels of debt in Greece and elsewhere.
'Trashed confidence'
Mr Balls said the eurozone had to make "tough decisions to get its house in order but not so much that it chokes off growth", adding that Germany and the UK's stance was at odds with that of US President Barack Obama and France's new president Francois Hollande.
He told Sky News: "Someone's got to persuade Germany that this will be a catastrophe for the world."
He also said Mrs Merkel's government had to "start letting the [European] Central Bank do their job" and start lending more money to stricken economies, such as Greece, Spain and Portugal.
Mr Balls also argued that the best way to grow the economy out of difficulty and increase tax revenues was to invest in, rather than cut funding to, the public sector. The government was having to borrow £150bn more than it intended as a result of its policies, he added.
Mr Darling, who was chancellor from 2007 to 2010, told BBC One's Andrew Marr Show that the coalition's reductions to the public sector budget were hindering growth.
He said: "The economy was growing in 2010, but now we are back in recession, something I didn't think would happen."
He added that the coalition, when it came to power, had "trashed confidence" by comparing the UK's situation to that of Greece.
'Apologise' call
Mr Darling said the situation was "compounded by what's going on in Europe" but there would be no improvement "unless we've got a credible plan for growth"
But, speaking for the government, Health Secretary Andrew Lansley said the government backed deficit reduction and urged Mr Darling to "apologise" for the role of the last Labour government in increasing national debt.
Meanwhile, writing in the Sunday Times , Chancellor George Osborne has said eurozone countries "must either stand behind their currency or face up to the prospect of Greek exit with all the risks that could involve".
He added that: "Those countries with high deficits and low competitiveness need to carry on confronting their problems head-on."
On Saturday, Mr Cameron said: "I think the German chancellor is absolutely right that every country needs to have in place strong plans for dealing with their deficits."
He continued: "But clearly, just as Britain benefits from a strong government with a strong deficit reduction plan and strong banks but also an independent monetary policy giving us low interest rates, helping to push demand in the economy, so the eurozone, I believe, needs that approach as well."