Lord Woolf: Contain length and cost of public inquiries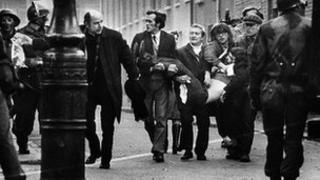 A former Lord Chief Justice has said more public inquiries such as the ongoing Leveson Inquiry into press ethics should be limited in length.
Lord Woolf is leading a probe into the effectiveness of public inquiries.
He said the government already sets limits on some official inquiries but more could be contained.
The former judge is leading the inquiry into inquiries for the Centre for Effective Dispute Resolution.
Speaking to BBC Radio 4's Today Programme, Lord Woolf said the Hutton Inquiry into the death of government weapons inspector Dr David Kelly showed the best and worst that such inquiries could deliver.
There is a conflict between public expectations of inquiries and what they actually delivered, he added.
"During the course of the Hutton Inquiry, everybody was praising the judge and saying what a marvellous job he was doing but when he came to give his decision and recommendations, very quickly there was a change of tone.
"Everybody was highly critical of my ex-colleague Lord Hutton, very unfairly critical."
'Cathartic effect'
Asked about the length and cost of the Saville Inquiry into the Bloody Sunday shootings in Northern Ireland, Lord Woolf said the government had wanted everyone "to be given a say" but that in future inquiries could be contained.
Harry, now Lord, Woolf was Britain's most senior judge until 2005. He frequently clashed with home secretaries by speaking out in favour of penal reform and the rights of those seeking asylum in the UK.
He said there were two purposes to public inquiries and that, in some, the facts are secondary to the judge's recommendations - leading to problems with the system.
"Judges are very experienced with determining facts. But they're not necessarily experts in making recommendations so that illustrates one of the problems with the inquiry system as it is now."
The public must have an opportunity "to be heard" during inquiries into decisions effecting local communities, such as whether to build a new road or runway, he added.
"The cathartic effect of being heard is a very important part of the inquiry. When it comes to recommending whether or not there should be a new airport or motorway then the judge whose conducting the inquiry... may not be all that well placed to make the decision."