Tax avoidance crackdown on senior civil servants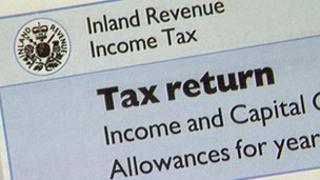 More than 2,400 public-sector workers may have avoided paying the full rate of income tax, the Chief Secretary to the Treasury has revealed.
A review of the tax arrangements of senior civil servants was carried out after it was revealed one was paid £182,000 without deductions for tax or National Insurance.
Danny Alexander announced new "tighter" rules for departments to clamp down on those on "off payroll" contracts.
Labour welcomed the review.
Speaking in the Commons, Mr Alexander said there was "absolutely no place for tax avoidance in government".
"It's clear that off-payroll engagement without sufficient transparency has been endemic in the public sector for too many years," he said.
The scandal first came to light in February when BBC's Newsnight programme reported on the special contract arrangements of the chief executive of the Student Loans Company, Ed Lester, discovered by investigative website Exaro News .
The review looked at senior civil servants paid over £58,200 in all government departments, arms length bodies and the boards of NHS trusts.
It did not address those working in the devolved administrations, local authorities and the BBC.
Each department has now published a list of off payroll appointees earning more than £58,200.
'New rules'
Forty per cent of cases dated back two years or more, with 20 cases going back as far as ten years.
Under the new rules, which will come into force in September this year, senior staff must be on the payroll. This will be apply to existing and new contracts.
Some exceptional circumstances will be allowed for example "where a department needs to employ specialists to carry out short term roles and where there is no available civil service expertise."
Departments must also put in place arrangements to check if staff are meeting their tax obligations in full.
If departments do not comply with the new rules, they could be fined up to five times the cost of the salary by the Treasury.
Mr Alexander said the review had not looked at whether any individuals had avoided paying tax but he added that the results have been passed to HMRC who are free to investigate any cases they see fit.
Shadow chief secretary Rachel Reeves, for Labour, said people would be "shocked" by the review's findings but she welcomed the government attempts to tackle the issue.
Head of the Civil Service, Sir Bob Kerslake, said the arrangements were "completely inappropriate" but the civil service still needed flexibility to be able to bring in expertise.
"Of course, like all other organisations, the civil service needs to bring in certain specialist skills for short periods and it wouldn't make sense to incur the cost of putting these people on the payroll.
"But it is only right that the civil service should be more transparent than any other employer about these arrangements", he added.
Mr Alexander also announced a consultation on a new law to require any person in control of an organisation, in the public or private sector, to be on its payroll.