Nick Clegg: Greek euro exit would not relieve Europe's problems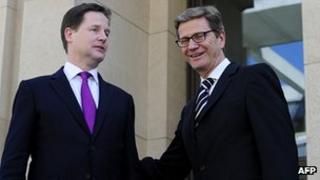 Nick Clegg has said it is a "false hope" to believe Greece's exit from the euro would provide "instant relief" to Europe's economic problems.
Speaking in Berlin, Mr Clegg said such an outcome would have "unpredictable knock-on effects" across Europe.
The UK deputy prime minister said he had an "open mind" over ways to aid growth and urged Europe to act as one.
Meanwhile, a group of Conservative MPs says the government should draw up far-reaching plans in case the euro fails.
No 10 has said the Treasury is looking at a "range of scenarios" relating to the future of the eurozone but it was not "prudent" to spell them out.
The worsening economic situation in Greece and the political deadlock there after inconclusive elections has raised the prospect of it leaving the single currency.
At a press conference with the German foreign minister Guido Westerwelle, Mr Clegg said he hoped Greece did not decide to go down this road.
'False hope'
He added: "It is my view that no-one should labour under the false hope that somehow that Greece leaving the eurozone can provide instant relief to the problems we face.
"Monetary union in the eurozone is founded on the principle that it was an irreversible step. If any member country chose to leave it would have a very unpredictable knock-on effect, not merely on members of the eurozone but on Europe as a whole, the UK and the global economy."
Mr Clegg said there were a number of interesting ideas on the table about how to stimulate economic demand across Europe, such as the use of eurobonds to underwrite debt and money from the European Investment Bank and under-used parts of the European Union's budget.
"I welcome the fact that the debate has matured from a false choice between fiscal discipline and growth and increasingly the debate is how you deliver both," he said - adding that austerity "alone" was not sufficient to guarantee economic recovery.
"Although we need to look at some of detail, we start with a positive mind to take up any suggestions that might foster growth."
He was speaking after updated figures showed the UK economy contracted more sharply in the first three months of 2012 than previously thought, a development Mr Clegg described as "very disappointing".
European Union leaders have said that Greece should stay in the eurozone but "respect commitments" on economic reform and public spending cuts in return for international help.
'Eurogeddon'
Greece is set to hold a second election in quick succession next month in an effort to break the current political stalemate and Prime Minister David Cameron has suggested the vote amounts to a "straightforward choice" on whether to remain in the euro or to "choose a different path".
In a speech later, Mr Clegg will argue that "no rational person" would advocate Greece's exit from the single currency given the instability it would trigger.
But the BBC News Channel's chief political correspondent Norman Smith said the tone of discussions about the eurozone crisis had seemingly shifted from what could be done to resolve the crisis to open calculations about what life might be like following a Greek exit.
The Free Enterprise Group - made up of 40 Conservative backbenchers - said in the event of so-called "Eurogeddon", benefits would have to be frozen and small firms made exempt from many employment regulations like the laws on unfair dismissal.
Low-paid flexi-jobs, exempt from tax and many employment regulations, should be created and the government should issue new infrastructure bonds to provide funds for capital projects such as roads or new runways, the group said.