No Murdoch deal, but Blair rues press failings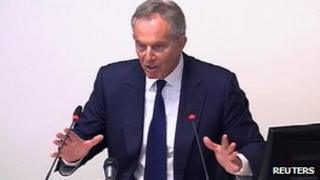 Tony Blair may have been in court today but this was not a trial and he was not in the dock.
The former prime minister had, nevertheless, come prepared to plead "not guilty" to the most serious charge made against him - that he had done a deal with Rupert Murdoch. But he also wanted to plead guilty to failing to confront the power of the press.
In his defence he pleaded that there would never have been a good time to do so and it would have conflicted with Labour's domestic priorities - among them improving schools and hospitals.
So "yes", Mr Blair accepted that he'd become good friends with the media mogul; "yes" he'd re-written Labour's policy on media power; and "yes" he'd made a call to the Italian prime minister on behalf of Mr Murdoch's company.
But "no", this was not in return for anything, although Mr Blair noted of the media in general: "You fall out with them and you watch out."
This, remember, may feel at times like a form of Truth and Reconciliation Commission but it is not.
It is an inquiry into how to regulate the press and on this Mr Blair found himself at times lost for words except to say that if the current prime minister did what he'd failed to do then he would back him.