David Cameron left 'baffled' by EU diplomatic procedures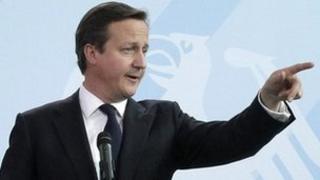 Prime Minister David Cameron has revealed that he finds the regular summits of EU leaders "baffling".
Mr Cameron criticised the protocols behind European Councils as he spoke to a group of students in Berlin.
Poor decisions "imposed from above" were the cause of much of the EU's problems, the prime minister said.
The "daily battle" for positive news coverage risked leaving politicians neglecting to focus on "the right thing for the country", he added.
Speaking alongside Chancellor Angela Merkel, Mr Cameron said EU member states had worked together well to reach common negotiating positions on Syria and Burma.
EU institutions were the right forum for developing policy on cross-border problems like pollution, and for agreeing on rules to promote pan-EU trade in goods and services, the PM agreed.
"The biggest successes in Europe have been from people going to live in other European countries, study in other European countries, businesses establishing themselves around Europe," he said.
"The things that have worked have been when Europe has been built through collaboration, co-operation, by people."
'Danger'
But he added: "The things that have not gone so well are the plans that have been imposed from above; I think that's why we have some of the problems we have today."
"Sometimes Europe has tried to run before it's learnt to walk.
"I'm in favour of Britain's European future, but I hope it's a future we can build in a practical, sensible way, based on people's links in Europe rather than trying to cook up new plans and new bureaucracy."
The European Council is an institution enabling formal negotiations between the leaders of EU member to take place in Brussels but the UK prime minister said he found it "baffling: the processes, the procedures".
In response to a question about the influence of media management strategies on politics, the PM said: "I think all the politicians here would agree that you have to fight a daily battle to try and explain why you're doing what you're doing, why it's the right decision, why your answer to this question is a, b or c.
"You have to do that every day, but I think there is a danger with the 24-hour media, with all the social media, that we can get terribly involved in the day-to-day, and not doing enough of actually standing back and asking: 'What's the right thing for the country in six months, in six years?'
"We have as politicians got to get that balance right," he said.
Mr Cameron is not the first British prime minister to express frustration at the protocols of EU summits. His Conservative predecessor Lady Thatcher was well-known for her dislike of such occasions.
Former Labour Prime Minister Tony Blair's chief of staff Jonathan Powell wrote in a recent BBC article that he was "constantly struck by the protocol" when he attended international summits.
"Planes land at the airport in protocol order. Cars are dispatched in order of seniority.
"Sometimes the timetable slips and you find yourself being driven round and round the same square in Brussels in order to kill time."