BSkyB bid row: Lib Dems to abstain in Commons vote on Jeremy Hunt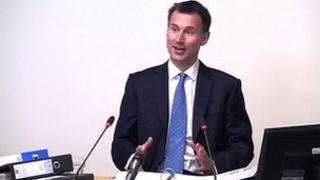 Lib Dem MPs are to abstain in a Commons vote on Wednesday calling for an investigation into whether Culture Secretary Jeremy Hunt has broken the ministerial code of conduct.
Labour want his handling of News Corp's BSkyB bid referred to David Cameron's adviser on ministerial interests.
The BBC's Nick Robinson said Lib Dem leader Nick Clegg had told a meeting of his MPs and peers not to "support the Tories on this one" and "to stay away".
Mr Cameron has fully backed Mr Hunt.
The outcome of Wednesday's vote - on an opposition motion - will not be binding on the government and even if all 57 Lib Dem MP withhold their support by abstaining, the vote is still likely to go the government's way.
However, our political editor said it would cause significant tension within the coalition and was an implicit criticism of the PM's judgement on Mr Hunt's future.
The prime minister gave his backing to Mr Hunt just minutes after the culture secretary gave evidence to the Leveson Inquiry on press standards last month, a move that is believed to have angered many Lib Dems.
In his evidence, Mr Hunt admitted he was sympathetic towards News Corp's bid to take full control of Sky but said he acted impartially once he was given responsibility for it at the end of 2010.
Labour is demanding an investigation into whether the culture secretary breached the ministerial code by failing to give "accurate and truthful information to Parliament" over his contacts with News Corp at the time and by failing to "take responsibility" for his special adviser Adam Smith.
Mr Smith resigned after admitting the number and tone of messages he exchanged with News Corp lobbyist Frederic Michel about the Sky bid had been inappropriate.
Labour is pressing for Sir Alex Allan, No 10's adviser on ministers' interests, to examine Mr Hunt's conduct, and have forced a Commons debate on the issue.
"This is an important opportunity for the House of Commons to make clear the importance it places on secretaries of state being transparent and truthful to Parliament," said the party's deputy leader and shadow culture secretary Harriet Harman
"I think members from all sides of the House will want to be sure that this issue is not simply swept under the carpet."
'Strong feelings'
The BBC understands a number of Lib Dem MPs had wanted to vote with Labour and against Mr Hunt but that Mr Clegg argued this would put them in an impossible position with their Conservative coalition partners and recommended they abstain instead.
It will be only the second time that Lib Dem MPs have not voted with their Conservative partners on an opposition motion since the coalition was formed.
They abstained en masse in a Commons vote in December in protest at David Cameron's decision to veto an EU-wide agreement on closer integration in response to the euro debt crisis.
Conservative International Development Secretary Andrew Mitchell said he respected the Lib Dems' decision and said it was "no surprise".
"In the circumstances, they feel very strongly about the Murdochs and about BSkyB," he told the BBC, adding that Labour's motion was a "party political" move and he was "absolutely convinced" that Mr Hunt had not broken the ministerial code.
Hours before Wednesday's debate, Mr Clegg will be giving evidence to the Leveson Inquiry at which he is expected to assert his party's independence from the Murdochs.
David Cameron will himself be cross-examined about how he handled the BSkyB bid and allegations against Mr Hunt on Thursday.