Mary Portas vows to lift 'gagging order' on High Street traders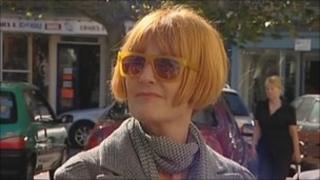 Retail guru Mary Portas has promised to lift a "gagging order" on traders taking part in a government-backed reality-TV show.
Twelve English towns have been selected to try out ideas drawn up by Ms Portas to rejuvenate their High Streets.
But traders in one town - Margate - fear the presence of a TV crew could harm their regeneration efforts.
And they were upset about a contract banning them from talking about the show on Twitter and other social media.
A spokesman for the Department of Communities and Local Government said Ms Portas had "asked for any restrictive elements of the contract in question to be changed".
The retail expert attempted to rally support for the project at a public meeting in Margate on Tuesday to announce details of the town's winning bid for £100,000 of government money.
She told the meeting "this is not about me, this is about Margate" and vowed to work "24/7" for the town.
'Protective'
She warned traders "this ain't going to be smooth" as the TV crew would show "warts and all" - but she said people would come to Margate's High Street, which has the highest number of empty shops in England, if it was featured on "prime time TV".
"I won't trip you up, and believe that from me. So we either let the cameras in with me, or I go back on the train and some other town gets it... So, lets go for it shall we?" said Ms Portas, in a speech videoed by a local Margate blogger.
The DCLG denied that only the towns selected to feature on the Channel 4 programme Mary: Queen of the High Street will benefit from Ms Portas's advice.
"We are clear that it is up to Portas Pilots themselves whether to take part in any programmes following their progress and that their status as Portas Pilots is absolutely not dependent on their participation in any show," said a spokesman.
Ms Portas said in a statement that she was "fully committed" to the 12 towns and would be visiting all of them and meeting representatives from them in London later this month. She also said she had held meetings with the bosses of leading retailers "who have pledged significant support to the project".
Chairman of the Margate Town Team, Robin Vaughan-Lyons, told Kent Today concerns had been raised about the presence of TV cameras.
He said: "What we did was forward the bid for the good of Margate and Margate High Street so, of course, we are very protective and passionate about our town.
"We want to make sure that it is portrayed well. You could say the eyes of the world are on Margate, so obviously we do not want to be let down."
'Industry standard'
The town has agreed to allow filming to go ahead but has raised concerns about a clause in a contract by Portas' production company Optomen, leaked to a blog, banning traders from speaking to the media or posting messages about it on Twitter of Facebook until the final episode of the programme.
Channel 4 said it would not discuss individual clauses but the contracts were "absolutely in line with industry standard".
"Some businesses have been given standard TV agreements. As usual, these agreements will evolve once we have received everyone's initial feedback," said a spokesman.
Shadow communities minister Roberta Blackman-Wood, for Labour, said: "I'm relieved to hear that Mary Portas will step in to ensure that Town Teams are able to talk and fully engage with their local community about their plans.
"This is essential as the process must be driven by the need to need to regenerate high streets not the need to make TV programmes."
In March, the government announced it had accepted "virtually all" 28 recommendations made in the report it commissioned from Portas on how best to revive the High Street. They included making parking more affordable and disincentives for landlords who left shops empty.
Twelve High Streets - from Cornwall to Northumberland - were selected to share a £1.2m pot of government cash to rejuvenate shopping areas.
Fifteen more "Portas pilot" areas will be selected later this year.