John Prescott among Labour police commissioner hopefuls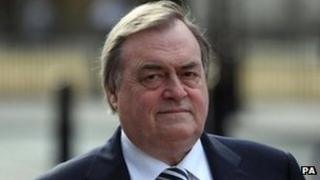 Former Deputy Prime Minister Lord Prescott has been announced as one of Labour's candidates to be a police commissioner later this year.
He will stand in Humberside, which includes the seat of Hull East, where he served as an MP for 40 years.
Other candidates around England and Wales include ex-ministers Vera Baird and James Plaskitt, and former Welsh First Minister Alun Michael.
Commissioners, paid £70,000 a year, will be able to sack chief constables.
Elections take place for all 41 forces around England and Wales on 15 November, with the government promising that the change will make policing more accountable and better geared to communities' needs.
Commissioners will also be tasked with setting budgets.
'Wrong thing to do'
Labour opposes the setting up of the role at a time when police around the country are facing spending cuts, but it has decided to put up candidates.
At the party's campaign launch in Birmingham, leader Ed Miliband said: "We didn't seek these police commissioner elections. We thought that if you were spending £125m most people would want that money spent on the police, not on new elections.
"But if these elections do go ahead - if the government insists on them going ahead - we, Labour, are determined to make the best of a bad job.
"What we are going to be arguing for in these elections is very, very important.
"First of all we are going to be saying taking officers off the streets is the wrong thing to do - it's not what our communities want, it's not what the police want."
Lord Prescott beat his Labour rival, Keith Hunter, a former police superintendent who resigned to enter the contest, to win the nomination for Humberside. The margin of victory was 94 votes. The peer, who served as an MP from 1970 to 2010 and as deputy prime minister from 1997 to 2007, has been campaigning for several months.
Lord Prescott, a keen user of the social networking website Twitter, told his followers: "I will be the People's Voice. THEY will shape their policing priorities with the police NOT Whitehall."
Father and son
He also wrote that he was "honoured" to have been selected and: "I intend to spend the next few months travelling the region listening to the people. From south bank to north bank, from village to city."
Several other senior Labour figures have won their party's nomination.
Former Liverpool Wavertree MP Jane Kennedy was chosen as candidate for Merseyside's commissioner. She beat Peter Kilfoyle, another former Labour MP.
Ex-Solicitor General Vera Baird won the nomination for the Northumbria force and Tony Lloyd, the former chairman of the Parliamentary Labour Party, was elected unopposed as candidate for Greater Manchester.
And former work and pensions minister James Plaskitt - who lost the marginal seat of Warwick and Leamington at the last election - will run in Warwickshire.
Meanwhile, the former First Minister of Wales, Alun Michael, was nominated to run in South Wales, with his son, Tal Michael, representing North Wales.
A local news website has reported that Harriet Yeo, a local councillor and vice-chairwoman of Labour's National Executive Committee, was burgled at the weekend while attending the meeting at which she was selected to be the party's candidate to fight crime in Kent.