David Miliband: 'Labour can win next election'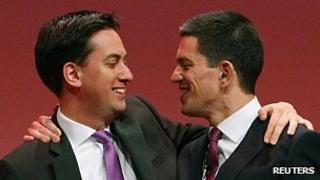 Ed Miliband "can win" the next general election, David Miliband has insisted.
But the former foreign secretary, who stood against his brother for the Labour leadership, warned the party against trying to "default into power" at a time of economic uncertainty.
Drawing parallels with the 1970s, Mr Miliband said volatility often led voters to desert mainstream parties altogether.
Mr Miliband made the comments in a speech hosted by the Commons Speaker.
David Miliband, who opted not to join Labour's front bench team after losing the leadership race two years ago, said politics became "much more uncertain" in times of crisis.
He said: "Younger listeners may not know this but governments can actually lose elections before they win three in a row."
"In the 1970s there were four prime ministers and five governments in nine years.
"For me and my party, this is great news. In 2015 Labour can win the general election and Ed can be in Downing Street."
He said the Labour leadership were right to warn against assuming the economic situation would allow the party to automatically return to government.
"Reassuring ourselves that all is well and that if we hold tight to old verities the electorate will realise the error of their ways - and there is always a market for this in both main parties - is the most dangerous plan of all.
"Voters in a time of crisis can swing from government to opposition, that is true, but they can also desert the mainstream parties.
"And crises produce a flight to safety in politics as well as in financial markets," he said.