London Olympics criminals face 'swift justice'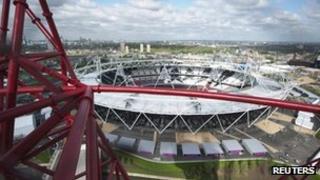 People who commit offences linked to the Olympic Games are set to appear in court within 24 hours, the Crown Prosecution Service (CPS) has said.
The CPS told the Times courts in London would sit for longer and "live-link" hearings would be used to stop traffic disruption slowing the court system.
It said it was "learning" from the 2011 summer riots when offenders were dealt with in days rather than weeks.
Muggings and street disorder are among crimes likely to be dealt with quickly.
Offenders are set to be categorised administratively under a specially defined "Olympics offence", which might also cover ticket-touting and pick-pocketing.
The decision over whether a crime fits into this category will be based on whether the offence is committed during the Games, where it is committed and whether the accused or victim is a competitor, spectator or official.
However, it will not be a new legal offence.
The timescale for the Olympics offences began on 1 May and will run until 30 September.
The CPS, which drew up the plans alongside the police, court service and other criminal justice agencies, said it aimed to have suspects charged within hours of an offence.
Courts across London will sit earlier in the morning and into the early evening if needed.
However, there are no plans for overnight sittings.
Alison Saunders, chief crown prosecutor for London, told the Times it was important for authorities to act quickly because many people who come to the Olympics will not live in the city.
"People who commit offences on Tuesday will be in court on Wednesday... we are learning the lessons of the summer riots," she said.