Ditch plans for power to sack MPs, government urged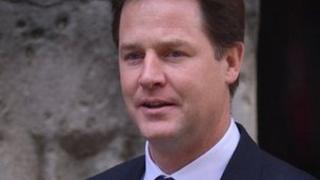 The government's plans for a power to sack MPs risk alienating people from politics and should be abandoned, a Commons committee has said.
Under the plans, MPs would "seldom, if ever" face the chop, the Political and Constitutional Reform Committee predicted in its latest report.
Voters would not be able to trigger the process, the committee noted.
Deputy PM Nick Clegg has previously argued that the right to trigger a by-election should not be "unqualified".
Under current rules, if an MP receives a prison sentence of more than 12 months, they automatically lose their seat.
The government proposes that, in future, if an MP receives a custodial sentence of 12 months or less, their constituents will be petitioned - and if 10% support the idea there will be a by-election.
A petition would also be triggered if MPs in the House of Commons decided that one of its members was guilty of "serious wrongdoing".
But under government plans it is not possible for an MP's constituents to instigate the "recall" process to force a by-election.
'Cut of the jib'
The planned conditions were too "narrow", the committee declared.
"It is vital that there is public confidence in the political process," Labour MP and committee chairman Graham Allen said.
"But the restricted form of recall proposed by the government risks creating the illusion that people will have a say in recalling their elected representative while ensuring that this will probably never happen in practice.
"There is a real danger that this could alienate people still further."
Testifying before the committee in April, Mr Clegg said the plans were not intended to give voters "an unlimited, unqualified, untrammelled right to trigger a by-election, whenever you happen to feel like it, because you don't like the cut of the jib of your local MP".
He said he was open to suggestion from his fellow MPs as to what should constitute "serious wrongdoing".
But the deputy prime minister was wary of making changes that would "allow the whole system to become - as it has done, frankly, in places, like California and elsewhere - just another kind of weapon for day-to-day, week-to-week political argy-bargy between the political parties".
The committee was unpersuaded by Mr Clegg's case for change.
"Time has shown that the existing democratic and legal processes worked in removing the MPs who were shown to have been guilty of serious wrongdoing during the expenses scandal," its report said.