Nick Clegg seeks more employee ownership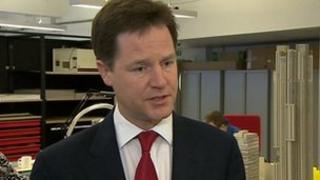 More employees should be "in the driving seat" and own a share of the company they work for, the deputy prime minister has said.
Speaking at a government summit, Nick Clegg urged a "culture shift" to help more people become their own boss.
The government is to set up a new body to offer information and advice on how to become a worker-owned business.
The TUC welcomed the report, saying employee ownership "can reap benefits" for workers and for businesses.
The deputy prime minister said he wanted employee ownership to enter "the bloodstream of the British economy... it won't happen overnight but, at last, we are on our way".
A new report by government adviser Graeme Nuttall found the main barriers to increasing employee owned companies were a lack of awareness, lack of resources and concerns about how complex it was to set up this kind of business.
The deputy prime minister, who has previously called for a "John Lewis economy", welcomed the report and announced the creation of an Institute for Employee Ownership to help provide information and advice.
'Eureka moment'
Businesses like the John Lewis Partnership, which is owned by its workers and distributes its profits between them, are seen by Mr Clegg as a key way to improve productivity and unlock economic growth.
He said: "I think having employees in the driving seat, where they're not just being told what to do by a distant boss, but everybody has a stake is a proven, tried and tested way of creating happy employees and successful companies."
New off-the-shelf "DIY packs" will also be made available to help with tackling legal, tax and regulatory issues. The government wants to show that an employee owned company doesn't have to be difficult, expensive or time-consuming to set up.
Addressing concerns about practices in the banking sector, which saw Barclays fined £290m for rigging inter-bank interest rates, Mr Clegg said it was a "timely reminder" that the UK economy needs an injection of responsibility, and power in more hands.
The benefits of worker-owned firms include lower levels of absenteeism, higher productivity and a narrower gap between the pay of bosses and other workers, Mr Clegg said.
"We need to find the right levers to drive a kind of culture shift where going down the employee ownership route isn't a eureka moment, but is much more normal, commonplace.
"Not everyone wants to set up their own company, but we all know we could; we all know someone else who has. That's my aim for employee ownership too - another way to be your own boss," he said.
Mr Clegg announced new figures showing companies owned by their employees are growing 50% faster than the UK economy - at a rate of 1.1% compared to 0.7% for the wider economy.
He said the Nuttall report raised questions about how employees of a private firm could change the ownership of the company they work for.
In order to address these questions, the deputy prime minister called for evidence from the sector, businesses and workers with a view to reporting back in the autumn.
TUC general secretary Brendan Barber said: "The most successful companies are those which have good relationships with their staff and where employees genuinely feel involved with the running of the business.
"In these situations where workers feel valued and that their views matter, employee ownership can reap benefits both for the workforce and for businesses."