MPs say all lobbyists should be on new register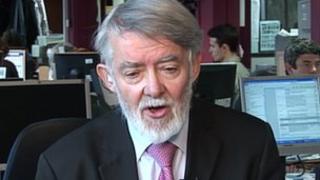 All lobbyists, including charities, think tanks and unions, should be subject to new lobbying regulation, a group of MPs have said.
They criticised government plans to bring in a statutory register for third-party lobbyists, such as PR firms, only.
They said the plan would "do nothing to improve transparency".
Instead, the MPs said, regulation should be brought in to cover all those who lobby professionally.
Action on lobbying was promised in the coalition agreement to deal with what David Cameron has called "the next big scandal waiting to happen" at Westminster
In January this year, the government set out plans to register only those "who undertake lobby activities on behalf of a third party client".
In a report , the Political and Constitutional Reform Committee said they had seen "no evidence to suggest that third party lobbyists are a particular problem within the lobbying community - indeed the Government's own records of ministerial meetings suggest that third party lobbyists make up less than 1% of all meetings with ministers".
'Corrupted'
The Committee said that whilst it was not in favour of having no regulation of lobbyists, this would be preferable to current government proposals.
They added: "The proposals single out third party lobbyists in an attempt to create a narrow focus for a register that will meet a coalition pledge, but do little to improve transparency about lobbying.
"The committee recommends that the government scraps its plans to introduce a statutory register of third party lobbyists, and instead introduce regulation to cover all those who lobby professionally, in a paid role, including those who lobby on behalf, of charities, trade unions, and think tanks."
Labour committee member Paul Flynn told the BBC's Daily Politics that the government's plan "only scratches the surface and let's 95% of lobbyists off the hook".
He said policies were "being corrupted by the influence of lobbyists" and there was support from all parties for a more wide-ranging register.
"The lobbyists who gave evidence to us, as well as the people interested in transparency all said the same thing: That we must have a root and branch of lobbying or we'll continue to have a government that's up for sale," he added.
A Cabinet Office spokesman said the government would provide a detailed response to the committee's report "in due course".
'Openness'
The spokesman added: "Lobbying has an important role in the policy-making process, ensuring that ministers and senior officials hear a full range of views from those who will be affected by government decisions. But it must be conducted in a transparent and open way.
"The coalition government is committed to introducing a statutory register of lobbyists. We will publish a draft bill and White Paper during this session of Parliament, and the committee's work will be important as we consider our approach, alongside the responses we received to the consultation that ended in April."
TUC head of campaigns and communications Nigel Stanley said: "Ministers and others should be far more open about who they meet, what was discussed and the purpose of the meeting.
"While we have no principled objection to registers that include everyone seeking to influence government, we still doubt how practical it will be to divide the staff of organisations such as the TUC into those who lobby and those who don't.
"But, as we support openness, we are happy to work on ways to take the committee's suggestions further."