UK must remain at centre of EU's single market, say peers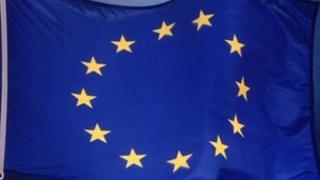 The government has been urged to ensure the UK "remains at the very centre of the EU and its single market", despite not joining a fiscal pact.
In a letter to Treasury minister Mark Hoban, the House of Lords EU Committee asks what plans are in place in case Greece leaves the single currency.
Its author, Labour's Lord Harrison, said the need for effective leadership was growing "ever more acute".
Twenty-five EU members agreed to the pact in January.
Only the UK and the Czech Republic opted out of the plans, championed by Germany, to bring in closer co-ordination of budget policy across the EU to prevent excessive debts accumulating.
It is argued that giving the European Commission greater powers to scrutinise national budgets will help prevent a repeat of the debt crisis affecting Greece and other countries, including Spain and Italy.
'Firewall'
Prime Minister David Cameron has ruled the UK out of joining the pact, warning that those involved must not "take measures that in any way undermine the EU single market".
But critics question whether it is possible to preserve the UK's position as Europe's main trading centre under such an arrangement.
In its letter, the committee asks Mr Hoban what can be done to guarantee "the inspired leadership in the EU necessary to make effective and efficient decisions in solving the crisis".
It questions whether the European "firewall" in place to prevent the spread of debt problems will be large enough to secure Italy and Spain's position, as the interest they are charged on debts continues to rise.
The committee also asks whether the European Central Bank has "sufficient financial resources and tools to act as an effective backstop to the euro area" and whether a treaty change be required to widen its role.
Lord Harrison, who chairs the Lords EU Committee's sub-committee on economic and financial affairs, said: "Whilst the 17 euro area member states are making decisions in smoke-free rooms, the UK could be left outside fuming. Although the UK remains outside the euro area, it needs to ensure that it remains at the very centre of the EU and its single market.
"As the crisis unfolds, the need for decisive EU leadership in Brussels and wise UK leadership in London grows ever more acute."