Cameron, Clegg and Miliband head off on post-Olympics holidays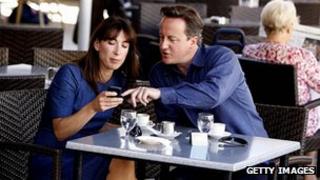 David Cameron, Nick Clegg and Ed Miliband are heading off on holiday, in a post-Olympics political exodus.
Both Mr Cameron and Mr Clegg are reportedly travelling to Spain for their break - where the Lib Dem leader will be visiting his wife's family.
The Labour leader is understood to be spending a fortnight's holiday in Greece with his wife and two sons.
In the absence of the PM and his deputy, Foreign Secretary William Hague is in charge of government business.
Home Secretary Theresa May will be the most senior minister in Whitehall next week - while there will be at least one minister on duty in every department throughout August.
London airports are prepared for the departure of about 200,000 people a day this week as visitors leave the UK after the Olympic Games.
Unusually, all three main political party leaders are now holidaying abroad.
'Human beings'
In the past the Camerons have spent part of their holiday in Cornwall - where their daughter Florence was born in 2010 - and last year Ed Miliband took his family to Devon.
Downing Street said Mr Cameron would return to London next week and be "back in the office for a couple of days" before heading off again for a short break in the UK.
Speaking at a press conference on the final day of Olympic competition, Mr Cameron defended the timing of his departure and the importance of politicians taking a break.
"I am a great believer that politicians are human beings and they need to have holidays," he said.
"I don't call it annual leave, I call it a holiday and I am looking forward to having a holiday. If you don't think politicians ought to have holidays I think you need to have a serious think.
"But I'll be back for the opening ceremony of the Paralympic Games."
Parliament is currently in its summer recess and will return on 3 September. There has been speculation the prime minister will carry out a cabinet reshuffle early next month before the start of the party conference season.
Mr Cameron has said the government will be "quick out of the starting blocks" in the autumn and promised a "packed programme" of initiatives on the economy and other issues.