Labour publishes latest details of meetings with the media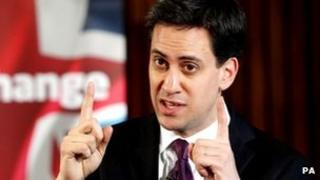 Labour has announced details of recent meetings between shadow ministers and senior figures working in the media.
The data, published on its website, shows that opposition leader Ed Miliband met proprietors, editors or executives on a total of 19 occasions in the first six months of 2012.
Deputy leader Harriet Harman, whose policy brief encompasses the media, had 32 such meetings in the same period.
BBC chairman Lord Patten met both Mr Miliband and Ms Harman in January.
Meanwhile, BSkyB's director of policy David Wheeldon had "general discussions" with Ms Harman in January and May.
In total, the party listed 135 meetings between 30 members of Labour's top team and the media between 25 December 2011 and 30 June 2012, outlining the date and nature of the meetings and naming the media figures involved.
The names of one shadow cabinet member, shadow transport secretary Maria Eagle, and one MP billed as "also attending shadow cabinet", policy review coordinator Jon Cruddas, do not appear on the list.