Tory MPs urge George Osborne to curb rail fare rises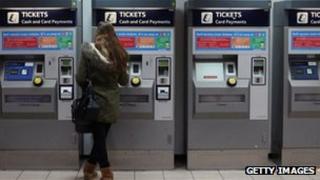 Conservative MPs are calling on George Osborne to stop rail firms increasing commuter fares by up to 11% in England.
The increases, due to come in next January, follow a spike in the rate of inflation used to set ticket prices.
But commuter belt Tory MPs say the price rises, meant to fund rail improvements, will deter people from working and harm economic growth.
Labour accused the MPs of "hypocrisy" for failing to oppose the rises in a Commons vote earlier this year.
The Retail Prices Index (RPI) of inflation is used to calculate season ticket rises, with operators in England allowed to bring in an annual average increase of RPI plus 3%.
'Priced out'
RPI unexpectedly surged to 3.2% in July, the month on which next year's rises are based.
This means season ticket prices in England are set to go up by an average of 6.2% in January.
In addition, rail companies are allowed extra flexibility, so some fares can rise by as much as 11%, as long as this is balanced out with smaller increases elsewhere.
Mark Reckless, Tory MP for Rochester and Strood, in Kent, home to many commuters, told BBC Radio 4's Today programme this would end up costing some workers hundreds of pounds extra a year.
He said: "Many of my constituents have to get up at five or six o'clock in the morning to take the coach to London because they cannot afford the train.
"Others have been priced out entirely because they were spending almost all their take-home income paying for a season ticket just to get to jobs in London.
"That's counter-productive because we want to encourage people to work hard and provide for their families rather than stay at home on welfare."
Mr Reckless added: "These RPI linkages don't really make sense when wages are going up, if at all, far less than inflation... That just discourages work."
Last year, Chancellor George Osborne intervened to cap average season ticket rises to a rate of RPI plus 1%, after protests from passenger groups.
Tracey Crouch, Conservative MP for Chatham and Aylesford, Kent, wants a repeat of this next January.
She told the BBC: "Fare increases of RPI plus 3% are coming at a time when household budgets are incredibly hard-pressed.
"A lower increase would mean there is still the investment needed for improvements but at a more proportionate cost for commuters."
Last year Labour put forward a parliamentary motion to set a permanent cap on season ticket rises of RPI plus 1%, but this was defeated.
Shadow transport secretary Maria Eagle said: "It is complete hypocrisy for Tory and Liberal Democrat MPs to claim to their constituents that they oppose 11% rail fare rises when they failed to vote against them in Parliament.
"The government has put the wrong people first by caving in to pressure from the private train companies and allowing them to hike rail tickets by up to 11% every year for three years."
Rail minister Theresa Villiers has said the fare increases are necessary in the short-term to achieve the government's goal of bringing down the cost of running railways and making services less dependent on taxpayers.
"In the longer term we are determined to get rid of these above-inflation fare rises all together," she said.
The government also insists the improvement of services, such as electrification and better carriages, necessitates higher fare increases in the short term.
RPI has fallen consistently since September last year, when it peaked at 5.6%.
In June, it stood at 2.8%, and many analysts expected the rate to fall further in July, but it increased to 3.2%.
Fares in Scotland they will go up by RPI plus 1% next year. Wales has yet to set a figure. Northern Ireland's train fare increases are not directly linked to the rate of inflation.