Analysis: Will George Osborne keep both his jobs?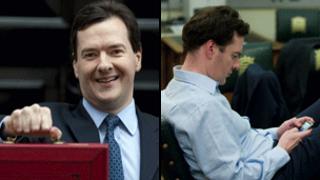 While Westminster waits for a cabinet reshuffle, speculation about George Osborne's political future has rumbled on through the summer recess.
Nobody expects the chancellor to be sacked. David Cameron has ruled it out.
To remove him would be an admission that the government's entire economic plan was wrong - an unimaginable U-turn.
Chancellors have a history of resigning before they are pushed (James Callaghan, Nigel Lawson and Norman Lamont spring to mind).
Harold Macmillan's dismissal of Selywn Lloyd in the cabinet clear-out of July 1962 was a rare exception.
Mr Osborne has no intention at all of leaving the Treasury and he and the prime minister remain very close. So however the cabinet chairs are re-arranged next month, the chancellor will stay in his.
But Mr Osborne is more than just the government's numbers man. He is its key political strategist and the Conservative Party's chief tactician.
He ran the Tories 2010 election campaign and oversees every major policy decision and appointment the coalition government makes.
Political role
Twice a day, Mr Osborne heads over to Number 10 for a meeting with the prime minister and Downing Street's key press and policy advisers.
The 0830 BST morning meeting rattles through the diary of pre-arranged plans and discusses how the government should react to stories and events that have flared up overnight.
The chancellor's voice at these chats carries a clout matched only by the prime minister's.
When he speaks, others listen.
The team reconvenes again at 1600 BST for a meeting lasting about half an hour.
Then there are the regular "quad" meetings between George Osborne, David Cameron, Nick Clegg and Danny Alexander that steer the course of the coalition. Mr Osborne also spends time counselling and cultivating Tory MPs.
And it is Mr Osborne's political role that some in Westminster think should shrink.
In July, the former Conservative chancellor Lord Lawson said Mr Osborne should ditch his job as chief strategist.
"It would be sensible for him to set aside his second job", said the Tory peer.
Damaged reputation
Labour's Ed Balls frequently accuses Mr Osborne of being a "part-time Chancellor" when they joust across the despatch box in the Commons.
And there are now reports in some papers that Lynton Crosby, the Australian political strategist who helped Boris Johnson to two election victories in London, will be put in charge of the Conservatives general election campaign in 2015.
There are several reasons for all this.
One is that Mr Osborne's reputation as a cunning political conjuror was damaged during the fallout from his bungled Budget.
Others suspect that Mr Osborne's obsession with playing the political game and point-scoring skews his judgement.
Last month, Conservative MP Andrea Leadsom said the chancellor should apologise to Ed Balls after he accused Labour ministers of being involved in Libor interest rate-rigging, following a furious Commons slanging match between Mr Osborne and his Labour opposite number.
All this comes at a time when the government's economic strategy is clearly off course. Borrowing is not falling as the Treasury had hoped and the economy is still stuck in recession.
But Treasury and Downing Street sources dismiss suggestions that Mr Osborne's political role could be reduced so he can devote all his energies to repairing the economy.
The Chancellor, they say, is entirely focussed on his job at the Treasury.
Modernisation project
They point out that during a decade of the last government there was a dysfunctional stand off between Numbers 10 and 11 and that it is essential the chancellor and prime minister meet daily and get on.
And they do - Mr Osborne is integral to a project started several years ago to modernise the Conservative party and remains at its heart.
Promotion within the party can't happen without his say so - which might explain the silence when Conservative MPs are invited to criticise him publicly.
He is seen as standing on the right - another source of his strength within the party.
But will Mr Osborne reprise his role of Conservative election strategist in the run up to 2015?
I'm told it's far too early to say.
What is certain is that one question will dominate the next election: Did the coalition call it right on the economy?
The economic and political are intertwined. And George Osborne understands that more than anyone.