Fire alert closes part of the Palace of Westminster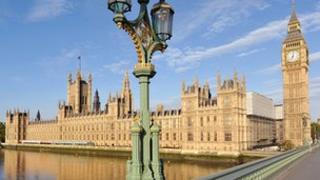 Part of the Palace of Westminster, home to the Houses of Parliament, was temporarily closed to the public on Friday following a fire alert.
Contrary to earlier reports, there was no fire in the building - in which repair work is taking place.
Palace authorities said smoke detectors had been activated following "overnight works" in a basement area.
Parts of the building had been closed as a precaution and there had been no danger, officials confirmed.
In a statement, a Commons spokesman said: "Smoke detectors in the Palace activated in the early hours of Friday morning linked to overnight works in the basement area.
"While the alarms were being investigated, and as a precautionary measure, certain areas of the Palace were closed. Experts ran tests and at around 0800 BST reassurance was provided so that the Palace could be accessed safely as usual.
"Contrary to some media reports, there was no fire."
There is substantial building work going at the moment at the Palace of Westminster, a Grade One listed building largely dating back to the middle of the 19th Century.
Reports have suggested the amount of structural refurbishment and rewiring required in the historic building means MPs and peers may have to move to another site for up to five years.
Parliamentary officials say a study into the long-term upkeep of the Palace of Westminster is under way and its findings are to be discussed by the end of the year.