What future for the squeezed middle?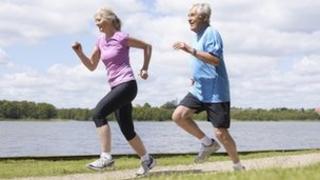 Middle earners are irrationally optimistic about their financial futures, according to research by the think tank Demos.
It says many have maintained their standard of living despite falling incomes, and are failing to save.
A group gathered by the think tank to talk about their finances are certainly pessimistic about making provisions for later life.
Philip, a librarian, says he has given up contributing to a pension.
"I'd rather spend the money paying my mortgage off," he says. "You keep hearing of too many funds going bust."
Angela, a personal assistant in the City, says she does have savings but adds: "We're just living from week to week or month to month. We're not actually thinking about the future. It's a very oppressive feel about your money."
Everyone taking part in the focus group earns between £31,000 and £42,300.
'Fatalistic'
A survey for Demos by Ipsos Mori carried out in the Spring - and shared with BBC Radio 4's PM programme - suggests more than a third of these earners think the economy will get worse, but more than half believe their own living standards would either be unaffected or improved by economic trends.
Noel, who works in events, says: "Friends of mine say they don't want to have a pension because they think it's not going to be worth anything anyway.
"It's a bit sort of fatalistic: almost live for now, enjoy ourselves now, and deal with it later."
Just 17% of those surveyed said they had made provision for the social care they might need in old age.
Asked how they plan to provide for themselves later in life, people tend to say they will draw on the equity in their home, according to Max Wind-Cowie, who is running the research for Demos's Progressive Conservatism project.
He says: "You add up all the things that people expect to be spending the money that's tied up in their home on and you're already far exceeding the average equity in a British person's home, let alone a mid-range earner's home.
"So they're really not engaging with the basic maths of it."
But Philip says when he lost his job his savings were a hindrance.
'New car'
He says: "If you have savings you're not entitled to any benefits, so it's much better to spend your savings.
"When I was being made redundant I bought a new car and that way I got my mortgage paid, I got all the benefits and everything. Much, much better off than if I had kept my savings."
This is the stuff of nightmares for politicians. How to support people without putting them off saving is an enduring political problem.
The question of whether the state or the individual should bear the burden of providing for the future is central to plenty of political debates.
The Conservative MP Chris Skidmore has called for tax breaks for those saving to fund care.
He says: "The growth of state benefits has left abdication of responsibility of individuals to say 'Actually, this is my life, I want to take control of my life and my old age.'
"Instead, that's been replaced by 'The state will look after it; the state will pay for it.'"
The government is still considering proposals by the economist Andrew Dilnot for reforming social care funding.
Ministers are set to include plans to limit how much people have to pay towards the cost of care in old age in the government's next spending review.
But few politicians relish the idea of telling voters they will have to save more and spend less.
'Fact of life'
Labour MP Yvonne Fovargue used to deal with these problems running the Citizens Advice Bureau in St Helens.
She says: "I think it's difficult to tell people how to spend their money. I think there's always a perception that the government takes too much of the money anyway."
In the focus group though, expectations for the future are low.
Natalie, who works in human resources for an investment bank, says her grandparents enjoyed a brilliant retirement.
She says: "I'm not sure that any of us can say that that's what we're going to have, which is very sad but unfortunately it's just a fact of life."
Politicians will have to make the big decisions about whether today's middle earners are doomed to that fate.
But they know individuals are already deciding just how much they can afford, and how much they intend to put aside for their own futures.
Ipsos Mori polled 2,213 households whose earned income fell within the £31,000 - £42,300 range in a rolling set of polls between February and March 2012.