Cheryl Gillan: Reshuffle coverage 'reprehensible'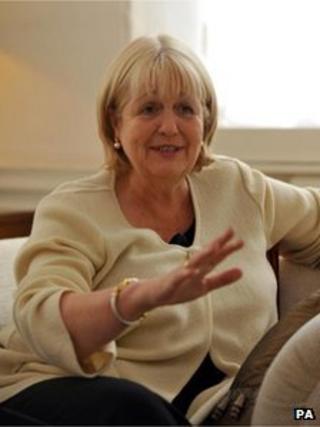 Ex-minister Cheryl Gillan has said some of the coverage of the reshuffle was "really rather reprehensible" and would put women off entering politics.
The ex-Welsh Secretary denied reports she cried when she was sacked, adding: "Do I strike you as the crying type?"
She said the prime minister was doing a "pretty good job in the circumstances" and should be free to refresh his team.
But she said some of the coverage of the reshuffle was "distorted" and focused on "tittle-tattle".
She told the BBC all parties needed to do more to encourage more women to enter politics.
Mrs Gillan said, in an interview with BBC political correspondent Carole Walker, that the lifestyle of being an MP was difficult for women.
And she said the focus on the "tittle-tattle" would also put women off the idea of entering Parliament.
She declined to confirm or deny reports that David Cameron was drinking a glass of wine during the meeting at which he told her she was being sacked.
Mrs Gillan said she still hoped to stop the HS2 plan for a new high speed rail route between London and Birmingham.
She said it was not good value for money and would be hugely damaging to the environment and said it did not make sense to press ahead with it while reviewing aviation policy.
Mrs Gillan, MP for Chesham and Amersham, was replaced as Welsh Secretary by Clwyd West MP David Jones in last week's cabinet reshuffle.
She told BBC Wales on Monday that she felt grateful to have had "a fantastic opportunity" to represent Wales in the UK cabinet.
She said she hoped she had left "a little bit of a mark in a positive way" in the land of her birth.
With regard to her sacking, Mrs Gillan said she would not divulge any details of her conversation with Prime Minister David Cameron, other than to say that he had always made no secret of his thinking that a Welsh MP would eventually take the role.