Evan Harris, former Lib Dem MP, takes ecstasy on TV for medical research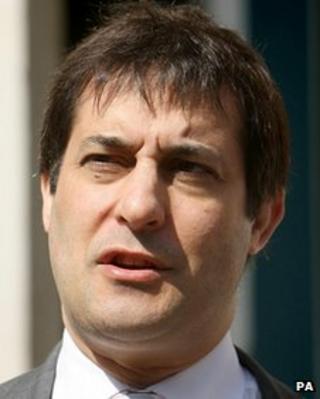 An ex-Lib Dem MP has taken ecstasy as part of a televised experiment into the drug's effects, saying there should be "no, no-go areas" for medical research.
Evan Harris is among those taking part in a Channel 4 programme examining the effects of the Class A drug.
He said the show, criticised by some experts, was a "valuable opportunity" to discuss issues surrounding the drug.
And he said he wanted to help find a dose that might help treat depression without giving patients a high.
Dr Harris, a qualified doctor who lost his seat at the last election, is among a group of public figures who have taken MDMA, the pure form of ecstasy, or a placebo for a programme entitled Drugs Live: The Ecstasy Trial.
The programme, to be broadcast later this month, is part of a wider study into ecstasy and its effects on the brain led by Professor David Nutt, the government's former chief drugs adviser.
'Not raving'
After being given the drug, Dr Harris and the other volunteers were placed inside a brain scanner and their neurological activity monitored.
He told Radio Times he had not agreed to take part "to get a free high" but because he wanted to help the study.
"In order to be allowed to take part in the trial, I needed to have taken ecstasy at least once before without any ill effects. Without going over 'my ecstasy history', I qualified."
He added: "It was not obvious to me when I was taking the MDMA (ecstasy) and when I was taking the placebo. But it was clear I was not raving."
In a separate statement, Dr Harris said he had long been an admirer of the work of Prof Nutt, who was sacked in 2009 after clashing with the then Labour home secretary Alan Johnson over drugs policy.
Prof Nutt was removed after saying cannabis was less harmful than alcohol or nicotine.
Dr Harris said the new study had been subject to an "ethical approval process for research involving healthy volunteers".
"We were all screened by medics and psychiatrists before giving our fully-informed consent to take part."
He added: "The trial could also pave the way to further research into potential therapeutic uses of MDMA, such as in the treatment of post-traumatic stress disorder.
"If it is deemed ethical and useful by the experts, there should be no 'no-go areas' for research."
'Balanced information'
The TV programme, he added, offered a "a valuable opportunity" to discuss the issues surrounding ecstasy and a chance to give the public "balanced, evidence based information" about the drug.
Channel 4 has said the "brave and radical" programme would not glamorise drug use and would address the side-effects and dangers of taking the drug as well as any possible medical benefits.
But Julia Manning, chief executive of the think tank 2020 Health, has described it as "reckless and pointless".
Dr Harris is a former Lib Dem science spokesman.
He lost his Oxford West and Abingdon seat at the last election but has maintained a high profile within the party.
He is also a spokesman for Hacked Off - the campaign group seeking justice for victims of phone hacking.