Analysis: Conservative conference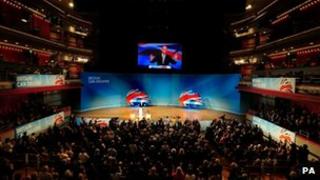 The political weather for the Conservatives in recent months has been overcast at best.
Gloomy opinion polls, an upbeat Labour Party after Ed Miliband's speech last week and, above all else, a struggling economy.
The conference has got under way here with a blizzard of mini announcements.
Eye catching, popular and relatively cheap ideas on everything from council tax to rail fares to the European Union's budget.
The idea is to focus on the cost of living for ordinary people and ram home that they get that many families are struggling.
The tone is one of reassurance - to tell the country that they know what they are doing and that they have a plan and secondly to reassure their activists with an offer of some appealing morsels of political red meat.
Passionately delivered scepticism about all things European Union ticks that second box with an indelible marker and goes a long way for many to ticking the first one too.
Many cuts are a tricky sell to the punters.
But many opinion polls suggest further cuts to the benefits bill go down rather well with many.
And more are to come.
A blast of Boris
Chancellor George Osborne and Work and Pensions Secretary Iain Duncan Smith have written a joint article in Monday's Daily Mail in which they say they are committed to Mr Duncan Smith's big shake-up of the benefits system and the introduction of the Universal Credit.
They are committed too, to saving another £10bn from the welfare budget.
The aim is two-fold: save money and box Labour into a political corner where they can be portrayed as being out of touch with popular opinion on such a key issue.
But day two of the conference won't all be about economics.
The arrival in the late afternoon of a certain Alexander Boris de Pfeffel Johnson will bring with it an equally certain blast of colour.
As inevitable as the possibility that his hair might be a tad unkempt is the likelihood of a welter of breathless articles dissecting his every utterance to attempt to detect if he is on a fast track to Downing Street.
He dismisses it all as utter drivel but, such is the force of his personality, that won't be enough to make the speculation go away.
With a talk entitled Boris's 2012: Re-elected and Olympotastic, it's pretty likely there'll be no shortage of good quotes for all the journalists rather keen to bag a seat to listen.