Tory MPs back under-fire Chief Whip Andrew Mitchell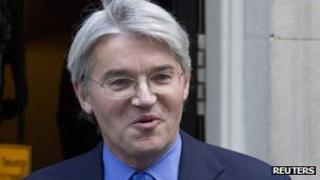 Conservative MPs have given their backing to government Chief Whip Andrew Mitchell, amid demands for him to quit over comments he made to police at the gates of Downing Street.
Labour leader Ed Miliband said Mr Mitchell was "toast" amid continuing anger over the comments, in which it is claimed he called officers "plebs".
The minister has apologised but denies using the word during exchanges.
But a meeting of backbench Tory MPs heard quitting would be an "own-goal".
The altercation with police took place as Mr Mitchell was attempting to get through the Downing Street gates on his bicycle.
At the weekly meeting of the Conservative backbench 1922 Committee, four MPs were said to have voiced concerns about the chief whip's future.
One, former ship James Duddridge, said Mr Mitchell had lost the loyalty of the parliamentary party and should "fall on his sword", the BBC has learned.
Another, Andrew Percy, reportedly claimed party members were threatening to quit because of Mr Mitchell's behaviour.
He added that he had received angry emails and had even had to listen to church sermons on the subject.
'Rebuild'
But around 15 MPs spoke in support of Mr Mitchell, led by grandees Sir Peter Tapsell and Bernard Jenkin.
"The sense is he will need to rebuild relationships," one source said. "You don't come through something like this emboldened."
Overall, however, the mood was said to be that the issue had been discussed for "long enough".
The discussion about Mr Mitchell lasted about half an hour - leaving Chancellor George Osborne, who was the main speaker, to wait outside in corridor.
Earlier, Prime Minister David Cameron and Mr Miliband clashed during Prime Minister's Questions.
Mr Cameron said: "What the chief whip did and said was wrong and this is why it is important that he apologised and apologised properly.
"That apology has been accepted by the officer concerned. It's been accepted by the head of the Metropolitan Police.
"That is why this government will get on with the big issue of helping Britain compete and succeed in the world."
'Untenable'
The prime minister said the Labour leader was continuing to bring up Mr Mitchell's run-in with the police because he had "no plans" for the "real issues" like cutting the deficit and reforming welfare.
"He wants to discuss these issues because he's got nothing serious to say about the country," Mr Cameron said.
Mr Miliband replied that the abuse of police officers was a "real issue" and he accused cabinet ministers of supporting Mr Mitchell in public, but telling the media something different in private.
"He is completely undermined. His position is untenable. In other words, he is toast and that is the reality," Mr Miliband said.
"Let me tell you the truth about this government: Whilst everybody else loses their jobs, the chief whip keeps his."
Mr Mitchell was moved to chief whip in Mr Cameron's government reshuffle last month, having served as international development secretary since 2010.