Broadband street cabinets 'to get camouflage'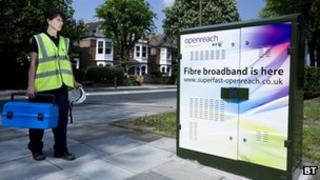 New street boxes, being installed as part of plans to roll out superfast broadband, will be camouflaged to "blend in", Lords have been told.
There have been concerns the cabinets, which will be bigger than current models and do not need planning permission, could be unsightly.
But the government said the boxes would be "sensitively sited" and plans were being made to reduce the visual impact.
The government is investing £680m in superfast broadband.
The overall aim is to offer speeds of at least 24Mbps to more than 90% of the UK to become the "fastest in Europe" within three years.
As part of that initiative, planning permission rules have been changed to make it easier for firms to install broadband cabinets on streets.
They will be able to install the cabinets and other related infrastructure on public land without local councils' permission in England.
Labour's former culture minister Lord Howarth of Newport said the government was allowing the installation of "bulky and intrusive equipment" wherever was convenient to broadband providers, with no thought to the local environment.
Government culture spokesman Viscount Younger of Leckie denied they were giving firms "carte blanche", insisting there were still options available for councils to oppose the cabinets in "exceptional circumstances".
A code of practice was also being drawn up, he said after being asked about the issue in the House of Lords.
Viscount Younger accepted that the new cabinets would be "on the large side", being both "taller and deeper" than the containers used at the moment.
He added: "They are not, as such, designed, having perfunctory casings but they will, I think, blend in where possible.
"There are plans afoot to camouflage these street containers.
"They will not be on every street corner. They will be on occasional streets, sited very discreetly."
He added that in some cases the overhead cabling required for super fast broadband would be housed inside church steeples, rather than in street cabinets.
This was, he said to peers' apparent murmours of disapproval, a "very good use for churches".