Sandra Howard recalls 'cosy' JFK dinner amid Cuban missile crisis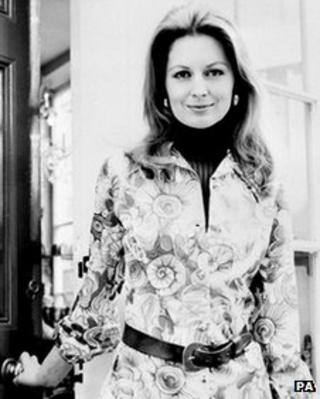 Sandra Howard, the ex-model married to former Tory leader Michael Howard, has spoken of her "amazing" memories of a White House dinner during the Cuban missile crisis.
She told BBC Radio 5Live of a "very cosy" evening with US President John F Kennedy and friends in October 1962.
At regular intervals, the president would disappear behind a curtain to take secretive phone calls, she said.
JFK unveiled details of his greatest foreign-policy crisis the next day.
"This sudden, clandestine decision to station strategic weapons for the first time outside of Soviet soil - is a deliberately provocative and unjustified change in the status quo which cannot be accepted by this country," he said in a televised address on 22 October 1962.
"The 1930s taught us a clear lesson: aggressive conduct, if allowed to go unchecked and unchallenged, ultimately leads to war. This nation is opposed to war."
'Switching gears'
Yet, the previous evening Mrs Howard recalled "a small gathering around a round a table in a room in the White House", with her friend Ambassador David Ormsby-Gore and his wife, the president and his wife Jackie, and the Duchess of Devonshire.
"The Ormsby-Gores and Kennedies were close friends," she explained in an interview with BBC Radio 5Live's Double Take programme.
"Looking back, it is quite the most amazing thing, because I was sitting next to Jack, and quite regularly he had a little tap on his shoulders from someone and he went behind a curtain in a window box and took a call, and he would come back and pick up the conversation just where he left it off," she reported.
She remembered conversations that were "ridiculous" yet "fun and very engaging", with the president displaying an interest in learning more about her fellow models.
"But he would go and take these calls, and presumably he was switching gears completely between the two," she continued.
"It's extraordinarily peculiar looking back, but of course at the time the world coming to an end threat wasn't known, really, as I was running around New York, doing my job," she said.
A small number of the president's confidants were privy to the scale of the continuing crisis, she said, including the British ambassador.
"Presumably Jackie knew, pretty much," she added.
But when the president made his announcement the next day, suddenly "the whole of the United States was watching," Mrs Howard said.
"I think my response was complete amazement and nerves, because we realised how close we were to nuclear war.
"It was quite an extraordinary feeling."