David Cameron to face European challenges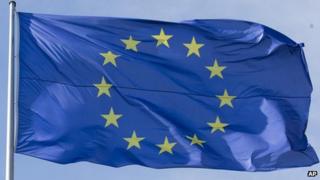 No dress down Friday for Britain's tireless critics of the European Union.
While many MPs were in their constituencies, a quorum of be-suited Eurosceptics had stayed in Westminster for a key occasion.
The MP Douglas Carswell secured a slot in the Commons chamber for Parliament to debate the proposition that Britain should leave the European Union.
It only lasted half an hour, but Carswell and his fellow travellers had succeeded in hijacking the "cock pit of the nation" to turn the plane around and pilot Britain out of Europe.
Two flash points
This debate has no binding impact on the government, but Carswell speaks - to varying degrees - for a growing number of backbenchers and frontbenchers on Britain's relationship with Europe.
David Cameron has two flash points on Europe ahead this autumn.
The first comes towards the end of November, when the new European budget will have been approved.
The PM will be pushing for only a rise in line with inflation - he needs to get movement his way on this in order to be able to sell his deal to an increasingly restive brood.
The second one comes in December, when the EU will likely agree some kind of banking integration for Europe.
The prime minister has played hardball in EU budget negotiations - the government line is that we can't cut back in country and allow expansion elsewhere.
But a benign side effect for the prime minister is that talking tough on Europe has worked for him before.
When, last December, he vetoed that EU deal of almost a year ago - the cognoscenti were not sure what the purpose of his veto had been but you, the public, liked it - David Cameron enjoyed a seven-point poll boost in the Ipsos Mori series.
The problem is that new analysis given to Newsnight shows that even if David Cameron is successful in killing the EU budget rises dead - well, it won't be anything of the sort.
Open Europe, an independent think tank pushing for EU reform, has worked out that because of peculiarities of this next EU budget, even though the prime minister will talk about a freeze... our net contributions will actually go up.
Right now, the European Commission proposes that between 2014 and 2020 the European Union budget should rise by 5% to 972bn euros.
The UK has suggested it should only be increased in line with inflation - to 886bn euros.
If the Commission got its way, Britain's own net contribution would go up substantially, which is why Mr Cameron is wielding his veto.
Rising bill
But Open Europe's analysis shows that, because of the new break down of the next budget, even if the prime minister gets his freeze, it won't actually be a freeze.
More money will go to the new EU member states (the 2004 entrants) - spending on these countries is not covered by our famous rebate. Open Europe says this means that the UK gets no cash back for the money it spends there.
Their criticism is less that new European countries are getting funds and more that those funds are not being redirected from existing EU funds.
But they are not, and so the bill has to go up.
Open Europe says that, at the lower end, it calculates the UK's net contribution could go up by 130 euros a year - 970m euro or nearly 1bn euros over seven years. And at the upper end, it could be 2.37bn euros over the period.
It suggests that when Mr Cameron comes back with what he thinks will be a victory in November, some of his critics might actually think he's made more of a votive offering to Europe.
It could backfire quite badly.