Ban considered on Sky Sports and other pay TV channels in prisons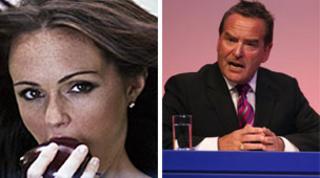 All prisoners in England and Wales could be banned from watching channels such as Sky Sports in their cells, a government minister has indicated.
Offenders in private prisons are able to access pay-TV channels for a small weekly fee, but inmates in publicly run jails can only watch free-to-air ones.
Asked on Tuesday whether this would continue, Prisons Minister Jeremy Wright said "not for much longer".
It comes amid concerns some offenders are given too many privileges.
Some inmates of privately run prisons are currently given access to subscription-only channels.
The latest figures available, for December 2009, show that 4,070 prisoners in contracted-out jails had access to such channels in their cells - about 40% of inmates who were then held in private jails.
Since then the number of private prisons in England and Wales has risen to 14, while the prison population has also increased.
Credibility
Prisoners in public-sector jails have access to eight free digital channels in-cell when they pay a fee for a television set. They are BBC1, BBC2, ITV1, Channel 4, Channel 5, E4, ITV3, Viva and Film 4.
Male prisoners used to be able to watch Sky Sports News, as opposed to E4, but it was cancelled when it became a subscription-only channel.
The BBC's home affairs correspondent Danny Shaw said ministers were also considering whether certain channels should continue to be available as part of the wider review into the prison regime.
Asked by reporters whether access to pay TV would continue in future, Mr Wright replied "not for much longer".
In a statement issued later, he added: "As part of the review of the incentives scheme for prisoners, I will be looking very closely at the provision of paid-for TV channels for prisoners, including Sky TV.
"I will take some persuading that this is appropriate, but the review is under way and is being treated as a matter of urgency. I want to be reassured that incentives are pitched at the right level and that they have credibility with the public."
'Not comfortable'
Speaking in London, where he was giving a speech on the government's "rehabilitation revolution", Justice Secretary Chris Grayling said changes would be made where necessary.
"I am very aware of the concerns about the regime inside our prisons," he said. "Prison is not meant to be a comfortable place, full of perks and undeserved privileges."
The security firm G4S - which runs six prisons - said prisoners did not enjoy an automatic right to TV in their cells.
"The provision of in-cell TVs... is a privilege which has to be earned," a spokesman said. "Poor behaviour will result in its removal."
The company said it awaited further details from the government but would comply with any changes that were made.
It added: "Prisons need a commercial licence to broadcast and in some cases Sky may be chosen as the most cost-effective provider particularly if TV is provided via satellite due to poor reception in a particular area."
On Tuesday, Mr Grayling also announced a review of the youth custody estate in order to ensure that young people who are detained get better access to education, as well as plans for mentors to help steer prisoners away from a life of crime.