NI businesses hope for tax support in George Osborne's statement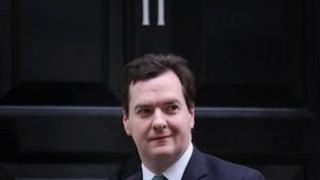 Business organisations in NI will be hoping for support for the devolution of corporation tax to Stormont in the chancellor's Autumn Statement.
George Osborne will say there is "no miracle cure" to the UK's economic problems in his half-yearly statement on Wednesday.
If the chancellor does not move on corporation tax, the likelihood of an announcement before Spring is slim.
The statement is also likely to introduce big cuts to welfare.
This will have an immediate impact in Northern Ireland as thousands of individuals and families are dependent on welfare.
With higher than average fuel prices due to additional transportation costs, and a high car dependency in Northern Ireland, announcements on fuel prices will be watched with interest.
The anticipated cancellation of the planned 3p rise in fuel duty will be welcome news.
Details are likely to be fleshed out on the £1bn business bank announced a few months ago.
The details of where the state funding will come from and how and where the bank will operate will be watched keenly by small and medium-sized enterprises in Northern Ireland hoping to benefit.
Mr Osborne is due to makes his statement to MPs against a gloomier economic background than forecast in March's Budget.
He will say the coalition are "confronting the country's problems" and insist he is not ducking the "hard work" of reducing the deficit.
Labour has called the government's economic policy "a terrible failure".
The chancellor will set out the state of the UK economy and his deficit-cutting programme from 12:30 GMT.