Autumn Statement: Labour to oppose 1% welfare rise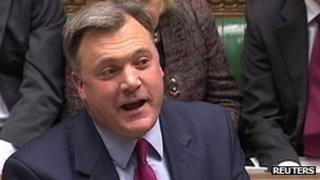 Labour will vote against plans to limit most welfare payment rises to 1%, shadow chancellor Ed Balls has said.
The government set the cap for benefits including jobseeker's allowance, employment and support allowance, income support and parts of child tax credit and working tax credit.
But Mr Balls called the proposal, made in last week's Autumn Statement, an "unfair hit" on working families.
The government says the cap is fair at a time when wages are rising slowly.
In the Autumn Statement, Chancellor George Osborne indicated the government would legislate to break welfare payments' inflation link, which earlier this year saw benefits raised by 5.2%.
'Worse off'
The 1% cap would stay in place for three years, he told the Commons.
Labour argues this penalises many low earners, while the highest-paid will benefit from a reduction in the top rate of income tax from 50% to 45% from next April.
During Treasury Questions on Tuesday, Mr Balls said: "We will look at the legislation - but if they intend to go ahead with such an unfair hit on middle- and lower-income working families while giving a £3bn top-rate tax cut, we will oppose it."
He accused Mr Osborne of making "striving, working families pay the price for his economic failure".
Mr Balls said 60% of families that would be hit by the benefit changes were in work.
"According to the Institute for Fiscal Studies, as a result of the Autumn Statement measures, a working family - the average one-earner couple - will be £534 a year worse off by 2015," he said.
"These are the very people who pull up the blinds and go to work."
But Mr Osborne said: "Of course tax credits go to some people in work, but we are also helping those people with a personal allowance increase [on income tax], and working households are £125 better off."