Clegg 'would like Huhne to return to cabinet if cleared'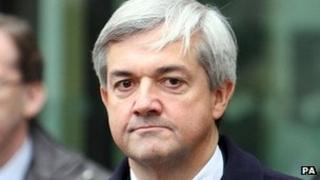 Deputy PM Nick Clegg has said he would like former Energy Secretary Chris Huhne to return to cabinet if cleared of perverting the course of justice.
Mr Huhne resigned in 2012 when he was charged for allegedly passing penalty points onto his ex-wife for a 2003 speeding offence - which he denies.
Mr Clegg told a Commons press gallery lunch that the former minister was a "big beast" who should be in cabinet.
"I would like to see Chris return, if he is cleared of everything," he said.
Mr Huhne stayed on as the Lib Dem MP for Eastleigh, after standing down from the cabinet to fight the charge.
Mr Clegg described Mr Huhne, whom he beat to the Lib Dem leadership in 2007, as an "accomplished politician... an old colleague and a friend".
"I can't predict what is going to happen in court cases nor what might happen afterwards and when, but as a starting point I think Chris is someone who belongs at the top table of British politics," he said.
Pressed on which Lib Dem minister would have to make way for Mr Huhne, Mr Clegg said he wanted him back "as a matter of principle" but did not know "how, where or when".
The accusations that Mr Huhne persuaded his ex-wife Vicky Price to take the points emerged only in 2010, after Mr Huhne had admitted an affair with his PR adviser, Carina Trimingham, and ended his marriage.
The decision to prosecute Mr Huhne and Ms Pryce followed an eight-month investigation by Essex Police.
Both face charges of perverting the course of justice, which they deny.