Nick Clegg talks down UKIP election prospects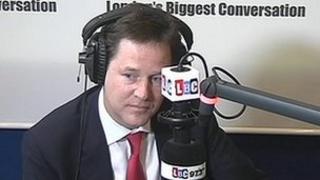 Deputy Prime Minister Nick Clegg has talked down UKIP's election prospects despite their recent opinion poll rise.
Recent polls suggest UKIP, which wants the UK to leave the EU, is now in third place ahead of the Liberal Democrats.
But Mr Clegg said he believed people will be "put off" when they look more closely at the party's other policies.
The Lib Dem leader was answering questions during the second of his weekly radio phone-in shows on London's LBC 97.3FM talk radio station.
He said UKIP was in the "great position" where it could be "everything to everybody".
But he added: "I'm not really sure that some of the other things that they actually stand for are being properly examined at all... and when they are subject to some scrutiny I suspect people might change their minds a bit."
Many people, for example, were not aware that UKIP believes the government's cuts do not go far enough "and that we should cut everything to the bone", he said.
Polls surge
Highlighting UKIP's recent poll ratings, LBC host Nick Ferrari asked the deputy PM: "Why are they more popular than the Lib Dems?"
Mr Clegg said a lot of people were "unhappy" at the moment and "want to have a go" at mainstream politics, and Nigel Farage, the UKIP leader, had been "skilful" in articulating opposition to the current government.
But Mr Clegg said UKIP's policy to pull out of Europe would be bad for jobs, growth and young people.
Earlier this month, Mr Farage pointed out his party had gone from 4.5% to in the polls to 16% in the space of a year and were targeting coming out top in the European Parliament elections in 2014.
But he admitted UKIP could not be complacent, because the party had no representation in the House of Commons.
"We've got a lot of work to do on that, and to build up our stronger areas, but who's to say that in 2015 UKIP may well be needed in a coalition?"
The UKIP leader says there is "no way" his party could work with Mr Cameron "under any circumstances" but he did not rule out going into government with Labour if a referendum on the EU became the party's official policy.