William Hague defends Conservative EU referendum pledge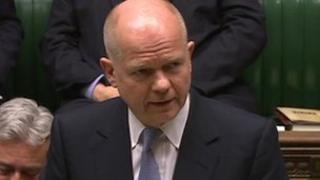 The Conservatives have a "clear vision" for the UK's future role in Europe, William Hague has told MPs as they debate the party's pledge to hold a referendum on its future membership.
The foreign secretary said "fresh consent" was needed from the public for a "new settlement" with the EU.
David Cameron has promised a referendum before the end of 2017 if his party wins the next election.
Labour said the pledge had not resolved the Tories' "headache" over the issue.
The Conservative leader has vowed to negotiate a "better deal" for the UK in Europe, arguing the institution must change to become more competitive and accountable to its citizens.
'Real choice'
His promise to renegotiate the UK's membership and then put that to a vote of the British public by 2018 has been welcomed by Conservative MPs, but criticised by Labour and the Lib Dems.
Defending the Conservatives' strategy in Parliament, Mr Hague said the party had a "clear vision for Britain's future role in Europe - renegotiation, then a referendum with a real choice".
The British people would be asked whether they wanted to remain in the EU on a new basis - which he personally favoured - or to get out.
The UK, he added, was not seeking merely to change the EU for its own benefit but to make improvements in how it functioned - in areas such as social and employment legislation - that would benefit all 27 members.
"A one-size-fits-all approach for 27 member states is not what we have now because it would be unworkable," he added.
"Far from unravelling the EU, flexibility could bind us more closely together, because flexible willing cooperation is a much stronger glue than compulsion from the centre."
'Full of tofu'
But shadow foreign secretary Douglas Alexander said the Conservatives' approach was not based around the national interest but was a "glorified handling strategy" to keep its MPs happy and fend off the threat of the UK Independence Party.
"The primary aim (of Mr Cameron's pledge) was to deliver unity through the device of obscurity."
Neither Mr Cameron nor Mr Hague, he claimed, were able to explain what powers they wished to reclaim from Brussels or what the party's "red lines" would be in any future re-negotiation.
"He (David Cameron) promised his backbenchers chunks of read meat but instead delivered a text full of tofu."
The Conservatives have said they will give more details in their next election manifesto and would introduce legislation to pave the way for a referendum by the end of 2017 returned to power.
Critics have said the Conservative leader has not made it clear what he will do if the renegotiation he foresees in UK-EU relations is not agreed to by other EU nations or the outcome is not satisfactory while some MPs want the issue to be decided sooner.
"Partly for reasons of uncertainty, partly for reasons of practicality and partly for reasons of principle, we should have a decision inside this Parliament and not in the next Parliament," said Tory MP Bill Cash.
He added: "Ultimately, this is about one fundamental question. It is not just about the word democracy, it is about democracy in action, in its impact on the daily lives of the people of this country."
'Muted'
The Conservatives have accused Labour of flip-flopping over the issue after they said the timing was not right for a referendum but did not rule out having one at some point in the future.
Pressed about his party's position by Conservative MP John Redwood, Mr Alexander said it was "not sensible" to make such a guarantee now as the Europe Union was changing fast and it was not yet clear what its impact on the UK would be.
Ex-Labour cabinet minister and EU commissioner Lord Mandelson has acknowledged that voices calling for the UK to retain and extend its influence in the EU have been "relatively muted and relatively less well-organised" than their opponents.
He was speaking ahead of the launch of a pro-European lobby group also backed by Conservative cabinet minister Ken Clarke and Lib Dem Treasury minister Danny Alexander.