BNP rejects calls to curb its EU money as 'totalitarianism'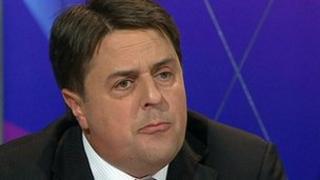 The British National Party has dismissed efforts to end its public funding in the European Parliament as "totalitarianism".
Opponents of the BNP and its allies argue they should be excluded from payments if they fail to abide by rules on "human rights" and "rule of law".
The Hope Not Hate group argues this is essential to defend democracy and the "ideals" of the European Union.
But the BNP said funding should not be based on political viewpoints.
More than 170 MEPs have called for the European Parliament's Alliance of European National Movements - which includes the BNP - to have its allowance removed, arguing that its members fail to follow "the principles of liberty, democracy, respect for human rights and fundamental freedoms, and the rule of law".
This is short of the 189 signatures needed to force extra scrutiny of a grouping.
The grouping which the BNP belongs to is entitled to approximately 300,000 euros (£258,000) in public money a year, as part of the total package for all parties in the parliament.
Hope Not Hate, which campaigns against the BNP, wants this to stop.
'Trawling blogs'
Spokesman Matthew Collins told the BBC: "The parties we want to remove funding from have not met the criteria for the payments. They aren't signed up to the ideals of the European Parliament, like fairness and equality.
"Why should they get money from a body when they don't event subscribe to its ideals?"
He added: "We have to defend democracy. People have asked MEPs to stop the funding. What we are attempting to do is to protect the ideal of democracy."
The BNP won two seats in the European Parliament in 2009, with leader Nick Griffin elected in North West England and Andrew Brons in Yorkshire and Humber.
Party spokesman Simon Darby said opponents in Strasbourg were "trying to say that if people don't agree with them, they should not be allowed to compete in the political arena".
He added: "That's not what democracy is all about. You contest an election and people vote for you or they don't. It's not up to Hope Not Hate or other Marxist proxy groups, but the British people.
"What they want isn't democracy; it's totalitarianism."
Mr Darby said he also disagreed with the principle of state funding for political parties, but added that all MEPs were entitled to it under the rules.
And Conservative MEP Daniel Hannan, who represents South East England, told BBC Radio 4's Today programme also said it illustrated the problem with state funding of political parties.
"Once you have state funding, someone has to decide who qualifies. Either you end up funding these extreme parties or you end up arbitrarily putting in the hands of their opponents the decision of who qualifies and who doesn't," he said.
"I'm afraid if you have got these rules, which I would much rather not have, the shaven-headed losers who spend time trawling blogs in their mother's basement are as entitled to representation as anyone else."
He also said: "I would much rather not have any state funding... the consequence is that either we end up funding fascists, or you end up, which is even worse, arbitrarily deciding which parties get the money and which don't."
Andrew Brons left the BNP last year.