Hot branding ponies 'indefensible' and must end, says MP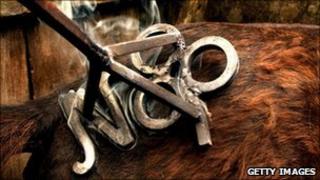 The practice of hot branding wild ponies is no longer defensible in the 21st Century and should be ended, an MP has urged the government.
Neil Parish said the method of identification was cruel and unreliable and posed wider risks as "many ponies" might end up in the food chain.
Campaigners have long criticised the use of hot irons to mark wild ponies.
Hot branding was prohibited in Scotland on welfare grounds in 2010 and the UK government is looking into the issue.
The practice - which remains legal in England and Wales - has traditionally been justified on the basis that it can help to identify an animal in distress, ascertain an animal's owner from a distance and reduce the probability of animals being stolen.
'Serious'
But Mr Parish, the MP for Tiverton and Honiton, told a meeting of the all-party parliamentary group for the horse - which considers equine welfare issues - that hot branding was cruel and "did not work" because marks deteriorated over time and could not be read in certain conditions or when animals had been neglected.
The MP, who has a family farm in Somerset, said the recent scare over traces of horse meat found in beef burgers on sale in UK supermarkets only highlighted the importance of effective identification of animals.
"Many of these ponies will end up in the food chain," he said. "Maybe they will not end up being eaten at home but they will end up being eaten somewhere across Europe. They should be identified."
Some of the animals, he added, would have been treated with antibiotics and other medicines and this made traceability even more important.
"This is becoming a serious issue," he said. "In the 21st Century, I don't think we need to be hot branding ponies."
The government's chief veterinary officer is currently looking into the issue and Mr Parish said he was "optimistic" that now was the right time to make the case to ban the practice.
Environment Minister Lord De Mauley told the meeting that he found the MP's arguments persuasive and he believed the government should hold relevant bodies' "feet to the fire" to pursue possible alternatives.
Since 2009, all new foals have to be fitted with a microchip, although some wild ponies are exempt from this until sold or sent for slaughter.
While most ponies - including some domesticated ones - are branded once, some wild ponies on Exmoor in Devon are branded three times - with an individual number, a herd number, and the Exmoor star.
Micro-chipping
Peers have said current rules exempting "a very small number" of wild ponies from having microchips was justified but the exemptions were being used "much too widely" and some domestic ponies were continuing to be branded instead.
Research commissioned by the RSPCA in 2010 concluded that hot branding - largely carried out without analgesics - was unnecessary and caused significant pain and suffering although it did not investigate the question of longer-term psychological effects.
Critics also point out that marks are ineffective as they are hidden in winter when ponies grow their hair or when they are covered in mud.
While lobbying for a total ban, welfare groups initially want multiple branding to end to make it easier to tell animals involved in accidents.
The majority of people carrying out branding are considered highly experienced and welfare groups have called for constructive dialogue with groups such as the Exmoor Pony Society - which is dedicated to safeguarding the historic breed.
The Society said that since 2003, all breeders and owners of Exmoor ponies have had the option to microchip their ponies only.
"The Society holds a DNA sample for every registered foal born since that date should it be required to identify a pony if for any reason the microchip becomes unreadable," said its secretary Susan McGeever.
"Since mandatory micro-chipping in 2009, the vast majority of in-ground breeders take this option as the ponies are handled and thus the microchip can be read with ease when standing next to the pony."