Plebgate CCTV could have stopped stitch-up - Mitchell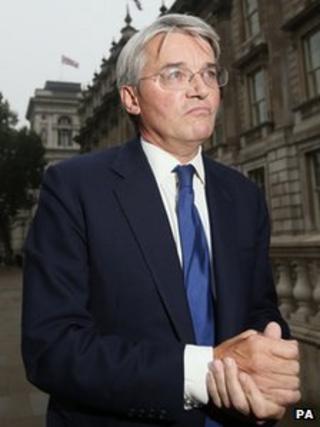 Andrew Mitchell has said he might still be a minister if the government had released CCTV pictures of the "plebgate" row outside No 10 earlier.
The former chief whip told Channel 4's Dispatches the footage reinforced his suspicions he had been "stitched up".
He was frustrated at how long it took for him to see the material and felt No 10 wanted the story to "go away".
Mr Mitchell resigned after admitting using bad language but he has insisted he never called police plebs.
Speaking to Dispatches, Mr Mitchell said he believed at an early stage that he was "being stitched up" but "didn't know how it was being done or where it was coming from".
In December, the Channel 4 programme broadcast CCTV pictures, which cast doubt on the reported version of events, of Mr Mitchell leaving Downing Street at the time of the alleged altercation two months earlier.
'National security'
It also raised doubts about the validity of an email sent to fellow Tory MP John Randall, purportedly from a member of the public who claimed to have independently witnessed the events.
Since then, four people - including three serving police officers - have been arrested on suspicion of misconduct in a public office relating to the row and the alleged unauthorised leaking of police records to the media.
In an interview with Dispatches, Mr Mitchell said he asked to see the footage on the day of his resignation in October but was not able to do so for three weeks. Another month passed before he was given a DVD copy of the material, a delay he described as "quite a frustrating experience".
He told the programme he believed cabinet secretary Sir Jeremy Heywood, the most senior civil servant in No 10, was initially concerned about releasing the footage on national security grounds.
"I do not think the arguments about national security were genuine, no," he said. "I do not think the release of the CCTV affects national security."
'Horror'
When he first saw the footage, which was mute and lasted about a minute, Mr Mitchell said his initial reaction was one of "absolute horror".
"It did not show what the log purported that it did show. There is no sign of the aggressive behaviour that you would associate with the log. Of course you can't hear anything but there is no evidence of dialogue.
"Had I used those phrases you would expect some reaction from the policeman who is going in front of me. And thirdly, there are references in the log and in the email to there being a crowd of horrified onlookers outside the gate."
Asked by David Cameron to look into the email days after the incident occurred, Sir Jeremy said he had doubts about it and when viewed alongside the CCTV footage, there appeared to be "inaccuracies and inconsistencies".
The top mandarin later told MPs there were "unanswered questions, including the possibility of a gigantic conspiracy" but No 10 had decided "on balance to let matters rest as they were" after Mr Mitchell apologised to police for not showing them due respect and the apology was accepted.
Mr Mitchell told Dispatches he did use bad language in response to being asked to use the side gate, rather than the main gate, but it was not directed at any of the policemen on duty outside No 10.
"That was a comment on the situation but it is not swearing at a policeman," he explained.
'Lie low'
Asked about No 10's approach to the controversy, he said he believed it wanted the whole issue "to go away".
"They really wanted me to lie low and let them get on with running the country but I could not do that. I could not wake up every morning for the rest of my life knowing that I had been stitched up."
And he added: "Had the CCTV been released earlier, together with the email, I think that it would have been discovered quite early on that something was quite seriously wrong with this and, I suppose, had that happened, I might still be in government today."
A senior Metropolitan Police Federation official told the same programme he was concerned about the authenticity of a document - claiming to be a record of the altercation - which appeared soon afterwards in a national newspaper.
"I could not confirm the veracity of it because I didn't know who it had come from and if it had been constructed by anyone," John Tully said.
"My concern is that it has always been called a police log and it is nothing like a police log."