MPs call for better checks on local transport spending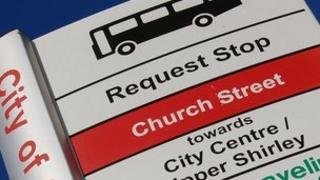 Central government should scrutinise more closely how local authorities are investing in roads, light rail and buses, a committee of MPs has said.
The public accounts committee warned that local transport bodies were "under severe financial pressure".
This might cause them to take decisions that were not "sufficiently strategic", chairwoman Margaret Hodge said.
But the Local Government Association accused the committee of "baseless speculation and insinuation".
"Councils and other local authorities know best the needs of their areas," said the LGA's Peter Box.
"The public accounts committee's call for a return to local and regional transport decisions being made by civil servants hundreds of miles away in Whitehall would be a retrograde step."
'Unacceptable deterioration'
Labour MP Ms Hodge said the Department for Transport had distributed £2.2bn to fund local schemes in 2011-12.
"But £1.2bn of this, mainly for highway maintenance and transport projects, is not ring-fenced and the department does not monitor whether it is actually spent on transport or achieving its intended purpose," she added.
"Local authorities are facing significant budget cuts but the department does not have the information to assess the impact on transport services, or to make comparisons between local areas to identify councils that are underperforming.
"It is also unclear how the department would identify a failure or unacceptable deterioration in services, or when and how it would intervene."
She continued: "We are not convinced that government has thought through the risks of devolving more control over the funding of major transport projects to a local level.
"For example, the department is confident that local bodies will naturally co-operate to fund and implement projects. We believe this confidence may well be misplaced.
"The risk is that local transport bodies, under severe financial pressure, will not take sufficiently strategic and joined-up decisions, threatening national or regional transport funding objectives."
'Real power'
Bob Crow, general secretary of transport union the RMT, said: "The RMT will continue to work with local communities to fight to protect bus services from extinction as the government cuts bandwagon threatens to wipe out routes which for many remain a vital public service."
A Department for Transport spokeswoman said it was determined to ensure funding for local transport struck the right balance between ensuring value for money for taxpayers while still allowing decisions to be made on a local level.
"For example, the devolution of local major schemes from 2015 will give real power to local communities to make locally accountable decisions, alongside a framework that ensures all areas have arrangements in place to deliver value for money for taxpayers.
"We will therefore carefully consider the committee's recommendations and provide a full government response in due course."