Date set for Eastleigh by-election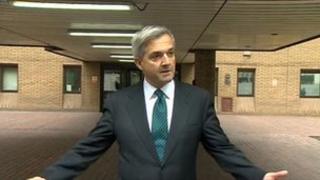 The by-election in Eastleigh to replace former cabinet minister Chris Huhne will be held on 28 February, the Liberal Democrats have said.
Huhne, who had held the seat since 2005, quit the Commons after pleading guilty to perverting the course of justice.
The Liberal Democrats will select their candidate at the weekend, while the Tories will pick theirs on Thursday.
Labour has yet to select a candidate. UKIP's Nigel Farage will not stand.
The Liberal Democrats have held Eastleigh, in Hampshire, since a by-election in 1994 and had a majority of 3,684 at the last general election.
Liberal Democrat Chief Whip Alistair Carmichael will move the writ to trigger the contest on Thursday, meaning it will take place just over three weeks after Huhne stood down.
It will be the first by-election in one of the party's seats since it joined the Conservatives in coalition and the contest between the two is expected to be hotly fought.
'Vigorous'
In 2010, the Conservatives came second in Eastleigh and now need a 3.6% swing to win.
The Times newspaper reported that Conservative Party officials have already been dispatched to the seat to lay the groundwork for their campaign.
Conservative chairman Grant Shapps said: "For too long the people of Eastleigh have been let down by an MP who was being less than straightforward.
"Residents will take a dim view about having been lied to by their Lib Dem MP."
The party will pick its candidate on Thursday night. It could be Maria Hutchings, who fought the seat in 2010 and has acted as Conservative parliamentary spokesperson for Eastleigh since.
Liberal Democrat President Tim Farron visited Eastleigh to begin his party's campaign the day after Huhne announced his resignation.
Mr Farron said he was expecting it to be a "tough fight" but said the party was "determined to win".
"Liberal Democrats have proud 20-year record of action in Eastleigh, fighting for people in both local government and in Westminster," he said." The people of Eastleigh should have the opportunity to elect someone to serve the constituency as soon as possible.
The Lib Dem candidate is expected to be selected on Saturday.
After speculation that he might run, UK Independence Party leader Nigel Farage said he would not be standing because he would be "leading from the front" on UKIP's campaign for the local elections in May.
Mr Farage stood in the Eastleigh by-election in 1994, the first time the party contested a seat.
He told the BBC at least 13 party members had shown an interest in standing in Eastleigh and he was expecting a "vigorous" UKIP campaign.