Nick Clegg 'proud' of £600 tax cut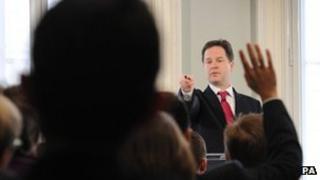 Deputy Prime Minister Nick Clegg says he is "proud" of income tax changes that he claims have made millions of people £600 better off.
In a speech, Mr Clegg summarised his approach to tax as: "Taxes on mansions; tax cuts for millions."
He confirmed that the Lib Dems were willing to abandon their support for a "mansion tax" in favour of higher council taxes on valuable properties.
But Labour disputed Mr Clegg's figures, describing his speech as "laughable".
Mr Clegg's speech came on the day the writ for the Eastleigh by-election on 28 February was moved in the Commons.
It formally signals the start of a three-week campaign for the vacant seat in Hampshire, which has been caused by the resignation of disgraced former Lib Dem minister Chris Huhne, who pleaded guilty on Monday to perverting the course of justice over a speeding fine.
"There is a growing sense within the public debate that how you approach tax says something about who you are," the deputy prime minister said.
'Egregious'
He said: "Over the past few years, against the backdrop of severe belt-tightening and difficult cuts to state services, we have seen people become more alive than ever to the contributions they and others make through their wages, on company profits, on assets.
"And they are equally conscious of whether or not those contributions are fair. The increasing importance that we, as a society, attach to tax fairness is most evident in the acute public anger towards egregious corporate tax avoidance.
"It's a sign of the times that people form views about their coffeehouses, search engines and booksellers on the basis of their tax returns."
Mr Clegg said that, as a consequence of increases in the starting threshold at which people pay income tax, "over 20 million basic rate taxpayers will be - in total - £600 better off" since 2010, when the coalition took office.
He renewed the Lib Dems' long-standing advocacy of a mansion tax, which he defined as "a 1% levy on properties worth more than £2m, applied just to the value over and above £2m".
But he also suggested an alternative: "New council tax bands at the top end, again affecting properties worth over £2m."
'Increasingly desperate'
He concluded: "Nothing could do more to demonstrate a commitment to greater fairness in our tax system.
"It's an open secret that our Conservative partners do not share our views on this. However, we will continue to make this argument, in this coalition and beyond."
For Labour, shadow chief secretary to the Treasury Rachel Reeves said: "This is a laughable speech from an increasingly desperate Nick Clegg.
"The Liberal Democrats will be judged on what they do, not what they say, and their record is the Tory record - one of economic failure.
"Nick Clegg campaigned against a VAT rise, but then delivered it after the election.
"He failed to deliver a mansion tax, but went along with a £3bn tax cut for the richest. And his cuts to tax credits will dwarf any gain from the rise in personal allowance for millions of working families."
Conservative Party chairman Grant Shapps signalled that his party intended to focus on Huhne's past in campaigning for Eastleigh.
"The residents of Eastleigh have for a long time been sold a lie by their Lib Dem MP. That's why they'll welcome the opportunity to express the way they feel about it very soon," he said.