Negotiations on new nuclear power plants 'need more scrutiny'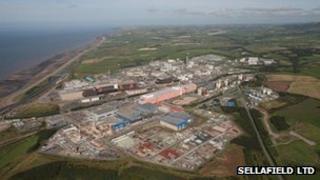 Lib Dem MP Martin Horwood has called for a "pause" in negotiations over new nuclear power stations to allow parliamentary scrutiny of whether they were likely to result in a good deal.
He urged the government to ensure that the construction of new nuclear power stations was not subsidised.
Mr Horwood likened the nuclear industry to a "freeloader".
But Energy Secretary Ed Davey said "rigorous processes" would ensure the "best possible" deal for taxpayers.
Leading a Commons debate on the subject, Mr Horwood said the use of subsidies for renewable energy was "justified".
But he said of the nuclear industry: "Wouldn't it be extraordinary if into this exciting young, diverse and competitive energy market we found that a 56-year-old freeloader, a tailgater left over from another era was trying to slip in unnoticed and pick up all the same kind of advantages and support?"
'Lack of transparency'
Mr Horwood claimed negotiations on the "strike price" - or minimum price for nuclear generated power - are going on "behind closed doors, as we speak, before the relevant legislation has even passed through this House".
He said he was not calling for "the instant abandonment of nuclear power" but "just for a pause, for the referral of the strike price negotiation to the Public Accounts Committee, other select committees or to an independent panel of experts".
Sessions could be held in private if issues of commercial sensitivity arose, he added.
Joan Walley, the Labour chair of the Environment Select Committee, supported Mr Horwood's plan.
She said there was a "complete lack of transparency" because of commercial confidentiality agreements with energy firms.
"Is new nuclear going ahead with or without public subsidy? I think the plain truth is we have no way of telling," she told MPs.
'Part of the answer'
Labour's shadow energy secretary Caroline Flint reiterated the party's support for nuclear power.
But she said it should not be a "one-way thing", stressing energy companies' social and economic obligations.
Mr Davey said he shared concerns about affordability, but assured MPs: "This is not about getting a deal at any price."
"We have put in place rigorous processes to ensure any contract for Hinkley Point C, the most advanced nuclear project, represents the best possible deal for consumers," Mr Davey said.
The energy secretary told MPs nuclear power was a "key part" of government's strategy towards a low-carbon future, but stressed it was only "part of the answer".
The Conservative MP for Warrington South, David Mowat, said nuclear technology is much safer and more advanced than when it was first being developed.
He said that without subsidies the energy market would focus on coal and gas instead.