Nick Clegg: I've given up 'the ciggies'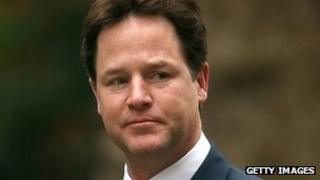 Nick Clegg has said he is "off the ciggies", but has admitted he fears he may take up smoking again.
The deputy prime minister, who has tried several times previously to give up the habit, told Sky News he could not "make bold predictions" about staying the course.
He once told BBC Radio 4's Desert Island Discs that his ultimate luxury would be a "stash of cigarettes".
Prime Minister David Cameron is another former smoker.
Whereas political deals were once thrashed out in smoke-filled rooms, sometimes accompanied by glass or two of beer, lighting up in public enclosed spaces is now illegal across the UK.
'Kids don't know'
But several politicians have struggled to fight the temptation to sneak outdoors and satisfy their nicotine cravings.
Liberal Democrat leader Mr Clegg told Sky News: "I'm off the ciggies again. I've been on and off the fags enough not to make bold predictions. But I'm off them at the moment."
In October 2010, he told Desert Island Discs his ultimate luxury if marooned would be a large supply of smokes.
He said: "I have a confession to make: I do enjoy the occasional cigarette. I can just imagine, as the sun goes down, sitting there with my beard flowing down to my knees just puffing away at a cigarette. I know I shouldn't say this and it's a terrible thing.
"In fact I hope my children don't hear this programme because they don't even know I smoke."
In 2006, MPs voted by a huge margin to ban smoking from most enclosed public spaces in England, including pubs, clubs and offices. It came into effect the following year.
A similar ban began earlier in Scotland, Wales and Northern Ireland.