UK 'must not be soft touch' for migrants from Romania and Bulgaria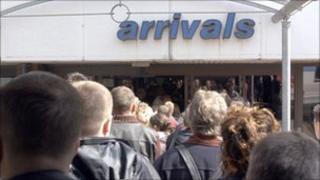 The UK must not be a "soft touch" for migrants, including those looking to come from Bulgaria and Romania in the future, minister Mark Harper has said.
The UK must "offer what we need to" under treaty obligations, in terms of benefits, but "no more", he told MPs.
Forecasts about the number of potential arrivals from Romania and Bulgaria when temporary controls expire at the end of the year were "not helpful", he added.
But Tory MP Philip Hollobone said such a situation was "madness".
Transitional controls in place since 2007 limit the number of Bulgarians and Romanians who can seek work in the UK and in other EU nations, but they will come to an end at the start of 2014.
Conservative ministers, who are committed to substantially reducing levels of net migration, are under pressure from backbenchers to say how the UK will deal with a potential influx of new arrivals.
'No idea'
At Home Office questions in the House of Commons, a succession of MPs raised concerns about the potential impact on the economy and society.
Conservative MP John Baron said the UK's minimum wage was six times higher than in Romania and Bulgaria and there was a chance of a "surge" in new arrivals.
Mr Hollobone said incomers should have to apply for a residency card: "My constituents think it is madness to open our borders to 29 million people when we have absolutely no idea how many are going to come to this country."
In response, Home Office minister Mr Harper said the government was looking at the "pull" factors which encouraged migrants to come to the country.
"We want to make sure that when people look at the access to our benefits and our public services that no one thinks we are a soft touch in this country," he said, adding that ministers were "taking action to make sure that won't be the case".
He dismissed suggestions that ministers had considered placing adverts seeking to deter migrants from coming to the UK, saying people should not "believe everything they read in the newspapers".
Given that transitional controls were ending in eight other countries as well as the UK , he said the number of people who might opt to come to the UK could not be forecast with "any degree of accuracy" and the government's advisory body on immigration had recommended against it.
Groups campaigning for tighter controls on immigration have warned that about 50,000 people from Romania and Bulgaria could come to the UK every year.
People from Romania and Bulgaria have been free to live in the UK since 2007, but have either had to apply for one of the limited work permits available, been self-employed or worked in a specific list of jobs such as seasonal agricultural ones and domestic servants.