Gift cards: MP urges law change to protect shoppers when retailers fold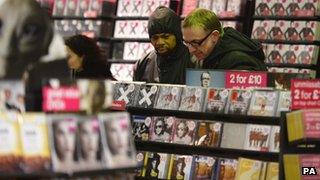 The law should be changed to give more protection to people who buy vouchers from retailers that then go into administration, MPs have been told.
Labour's Michael McCann said many shoppers were currently left "high and dry" when shops folded and they should be "higher in the queue" of creditors.
He wants to amend current insolvency laws to give consumers more rights.
The administrators of HMV reversed their original decision not to honour vouchers, amid public anger last month.
The treatment of those who buy vouchers and gift cards has risen up the political agenda after a string of high-profile retail failures this year.
While customers of HMV and Blockbuster will be able to redeem their vouchers in full, administrators for camera chain Jessops say this is highly unlikely in their case after they decided to shut all of the outfit's stores.
'Future promise'
Unlike many suppliers and mortgage lenders, voucher holders are classified as unsecured creditors in the event of a firm's collapse.
It is up to administrators to decide what, if any, compensation they should receive after assessing a firm's financial position.
Unveiling proposed legislation in the House of Commons, Mr McCann said consumers got short shrift when retailers went under and existing insolvency laws dated back to a time when the £4bn gift card market was much smaller.
"If HMV can go under, so can any of the other big names who invite us to part with our money in return for a future promise that they will honour purchases that we want to make," he said.
"The law in relation to insolvency does not seem to provide any protection at all and my aim is that, with this bill, we will strengthen the rights of consumers in this area so that... consumers are not left high and dry or at the mercy of administrators in deciding whether or not to honour the commitments entered into."
Many retailers, Mr McCann suggested, continued to sell vouchers when they knew the "writing was on the wall" about their future.
Consumers, on the other hand bought the vouchers - often intended as gifts for family or friends - in "good faith".
List of creditors
When a failed firm's assets were divided up, owners of vouchers should be given better treatment, he added, on a par with former employees seeking reimbursement of wages or pay in lieu of holiday.
"Something should be done now," he added. "This amendment to the legislation would provide for an additional category of preferential creditors who, in the winding up of any company, will go higher up in the queue in the distribution of any remaining assets."
The MP's proposals have cross-party support but will not become law unless adopted by the government and officials indicated this would not be the case.
"We have great sympathy for any holders of gift vouchers who are unable to redeem them due to a company going into administration," a spokesman at the Department of Business said.
"However, there are no current plans to amend insolvency law on gift vouchers. Any changes to insolvency law would mean that it impacts on the position of all other creditors. Generally speaking, former employees are preferential upon insolvency."